30 Vegan Easter Recipe Ideas For 2017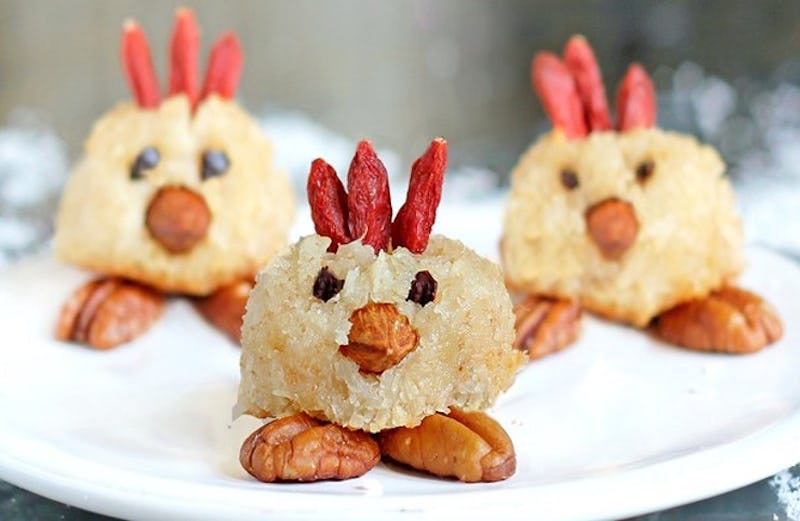 Chocolate Covered Katie
Ah, Easter. A holiday (for the more secular, that is) all about rebirth, spring ... and chocolate. It's also a holiday where lots of little adorable baby chicks and rabbits get their moment in the spotlight. Unfortunately, eating chicken's eggs or other animal byproducts is not the best way to celebrate life or adorable animals. Instead, why not go with some vegan Easter recipe ideas this year instead?
After all, Easter is well-suited to vegan food. It's all about celebrating spring produce — carrot, asparagus, lemon, and strawberry flavors reign. But for those who see any Easter brunch as simply a precursor to dessert, don't worry, all the staples can also easily be made vegan: chocolate eggs, peanut M&Ms, carrot cake, lemon cupcakes — me and my sweet tooth have you covered, from brunch to fifth dessert.
Happy Easter, and remember: you can still celebrate chicks without eating their eggs, and have an easter egg hunt using chocolate or toy eggs instead. You'll be following the example the man this holiday is really about — Jesus — actually set forth: pacifism, love, and non-harm. Do unto animals as you would want done onto you. So, without further ado, here are 30 vegan Easter recipe ideas for this 2017.