31 Hurricane Irma Tweets That Emphasize The Storm's Intensity As It Makes Landfall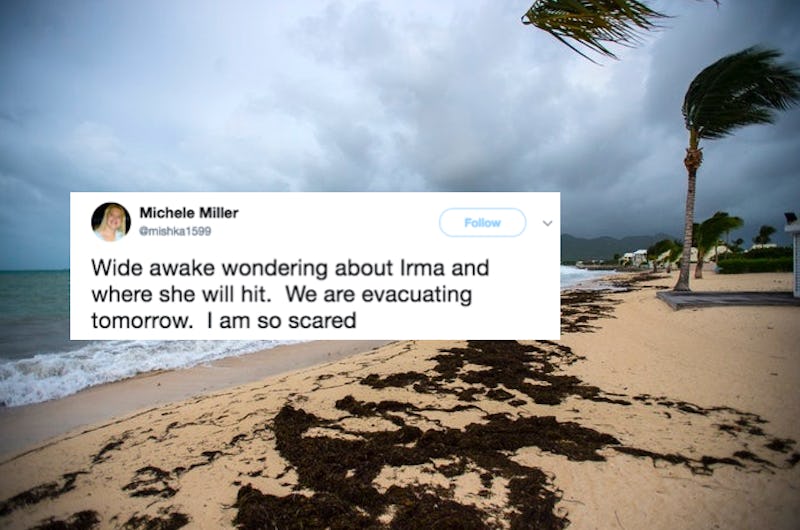 LIONEL CHAMOISEAU/AFP/Getty Images
Hurricane Irma has just made landfall on the tiny Caribbean island of Barbuda, with many reports indicating that the eye of the storm passed directly over the island. Understandably, many people are very concerned about the storm's impact on the tiny island, as well as by what impact the storm will have on other Caribbean islands and possibly the United States. This concern is exemplified in many of the recent tweets about Hurricane Irma.
Twitter users have begun sharing some of the very few updates available thus far from Barbuda. Additionally, many users are expressing horror and shock at the size and scope of the storm, which is reportedly one of the most powerful storms ever recorded in the Atlantic.
Many users have indicated that their friends and relatives reside in areas possibly in the storm's upcoming path, including the rest of the northern Leeward Islands and Puerto Rico, as well as Florida and other U.S. states. They have expressed extreme concern for their welfare, especially considering how strongly the hurricane seems to have impacted Barbuda, and are wondering how exactly they can help those still awaiting the storm's arrival.
Hurricane Irma is clearly a very powerful storm and, unfortunately, its complete trajectory and full impact is still very much unknown. In the meantime, those on Twitter are seeking comfort among others as well as sharing storm updates and information.