32 Incredible #Spicey Memes To Give You Life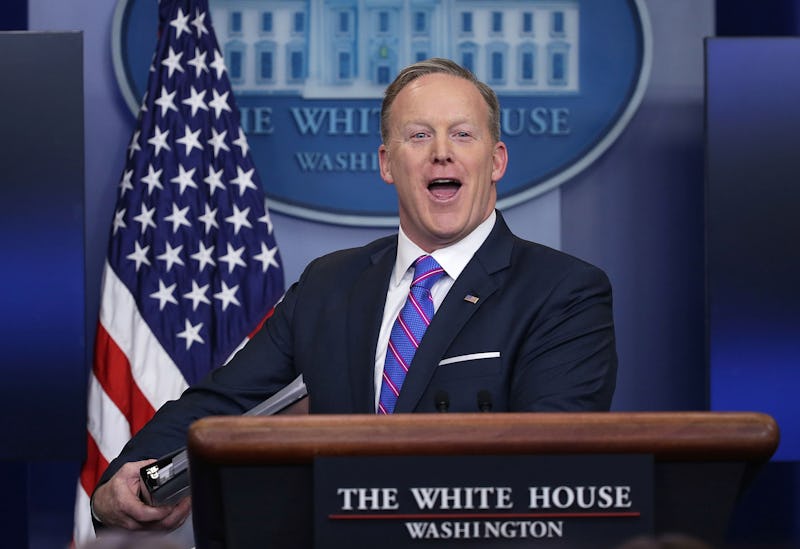 Alex Wong/Getty Images News/Getty Images
The news got a little spicier Tuesday following White House Press Secretary Sean Spicer's disastrous briefing, during which he tried and pretty thoroughly failed to spin former National Security Advisor Michael Flynn's resignation. As ever, the internet had a field day, mocking Spicer's doomed attempts to make the best of a bad situation. #Spicey exploded online as people hilariously commented on the circus that was the presser, showing how little much of the public trusts and respects Spicer. These are some of the best #Spicey memes to Spice up your life.
The Spicer mockery has been increasing steadily since he started the job by lying about the size of the crowd on Inauguration Day. The situation has somehow managed to become even more ridiculous since then. Between his penchant for mispronunciation and the slew of embarrassing leaks from within the White House, Spicer's already been roasted six ways to Sunday and it's only a few weeks into the administration.
He doesn't seem long for the position, to be honest, but don't feel too bad about laughing at him on the way out. Spicer is, or at least tried to be, a critical cog in the machine that empowers Trump's attempted authoritarianism, and there's honestly no need for empathy here (there's certainly a line you can't cross for acceptable criticism, but because Spicer's a straight white male, most people haven't come even close to it). So feel completely free to enjoy these #Spicey memes, because they're simply too good to pass up.