36 Valentine's Day Episodes On Netflix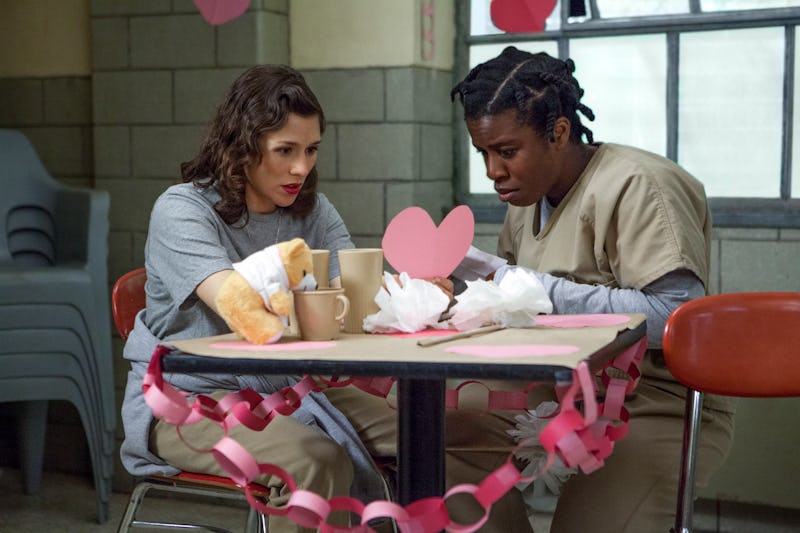 If I'm being honest, Valentine's Day hasn't cracked my list of favorite holidays since elementary school. This has little to do with my relationship status and more to do with my love of excuses to throw silly parties, which adults don't tend to do as much. Whether you're celebrating, chilling, or looking to indulge in a fictional character's life rather than your own this February, the Valentine's Day episodes on Netflix can help keep love alive.
This year, you have the option of watching Michael Bolton's Big Sexy Valentine's Day Special, if you're into that. As always, while you're on Netflix, you could skip this list and just watch ALL of Lovesick, formerly known as Scrotal Recall, instead. That is my standing recommendation, romantic or otherwise.
These aren't necessarily romantic episodes. Some of them aren't even good episodes, but I'll never tell. Everyone know that person who is extra cynical on Valentine's Day, or tries to revolt against the holiday. You know, the person who says that V-Day was invented to sell greeting cards and candy. If that's true, then clumsiness as a personality trait was invented by Hollywood to sell romantic comedies. My move as a single person is typically to lay low for a few days — which leaves me plenty of time to watch Netflix. Here are 36 episodes from 21 different shows.
30 Rock
Season 4, Episode 13, "Anna Howard Shaw Day"
Season 3, Episode 11, "St. Valentine's Day"
Season 6, Episode 6, "Hey Baby, What's Wrong"
30 Rock was always good at deflecting by making the holiday not about the holiday. However, that hallucination scene is epic.
Parks and Recreation
Season 4, Episode 14, "Operation Ann"
Season 2, Episode 22, "Galentine's Day"
It may have sparked a sisterhood movement, but the Galentine's Day episode is actually more about Valentine's Day when you sit down and watch it.
How I Met Your Mother
Season 6, Episode 16, "Desperation Day"
Season 7, Episode 16, "The Drunk Train"
Honestly surprised that it took HIMYM this long to get into the holiday spirit. Then again, the show was about love all year long, so it might not matter.
The Office
Season 7, Episode 16, "PDA"
Season 2, Episode 16, "Valentine's Day"
Season 5, Episode 18, "Blood Drive"
My standard holiday episode pick is always The Office, and these are three gems.
Arrested Development
Season 1, Episode 12, "The Marta Complex"
What's better than a love triangle? This episode is a classic.
Orange Is The New Black
Season 2, Episode 6, "You Also Have A Pizza"
This honestly might be the best Valentine's Day episode of all time.
That '70s Show
Season 1, Episode 16, "First Date"
Season 3, Episode 15, "Donna's Panties"
Season 5, Episode 14, "Babe I'm Gonna Leave You"
Season 8, Episode 12, "Killer Queen"
Like I said, Valentine's Day matters more when you're in school.
Friends
Season 1, Episode 14, "The One With The Candy Hearts"
Season 8, Episode 15, "The One with the Birthing Video"
In these episodes, at least, their love life is not dead on arrival.
Mad Men
Season 7, Episode 2, "A Day's Work"
Season 2, Episode 1, "For Those Who Think Young"
From some classic Joan to Peggy stealing her secretary's flowers and this genuinely moving Sally Draper moment, Mad Men is bringing it.
Buffy The Vampire Slayer
Season 2, Episode 16 "Bewitched, Bothered and Bewildered"
Xander makes a love potion and chaos ensues. Buffy is often a serious show, but this episode is pure comedy.
Glee
Season 2, Episode 12, "Silly Love Songs"
Season 3, Episode 13, "Heart"
A musical is a perfect way to warm your heart, and these episodes are brimming with tunes.
Gossip Girl
Season 4, Episode 15, "It-Girl Happened One Night"
Season 5, Episode 15, "Crazy, Cupid, Love"
I so recommend re-visiting Gossip Girl in 2017. It's dated in ways you don't expect, but the sexy melodrama totally holds up.
Grey's Anatomy
Season 6, Episode 14, "Valentine's Day Massacre"
Season 8, Episode 14, "All You Need Is Love"
Another show that's about relationships, yet took multiple seasons to set an hour on February 14. What's that about?
Supernatural
Season 5, Episode 14, "My Bloody Valentine"
Mix it up!
The Vampire Diaries
Season 5, Episode 13, "Total Eclipse Of The Heart"
You could easily make a genre Netflix playlist and spend the whole day with sappy monsters and their feels.
The West Wing
Season 6, Episode 14, "The Wake Up Call"
OK, it's not the most romantic episode or the best season, but there are some prime Jed and Leo moments — and while you're watching the show, add on a good Charlie and Zoey or Josh and Donna episode.
It's Always Sunny In Philadelphia
Season 12, Episode 8, "The Gang Tends Bar"
A crowded pub run by a family of idiots. That's how we all want to spend our Valentine's Day, right?
Switched At Birth
Season 2, Episode 6, "Human/Need/Desire"
Of course Bay has an Anti-Valentine's Day party. She's definitely that girl from high school.
The X-Files
Season 6, Episode 8, "The Rain King"
You had me at Mulder, honestly. I don't even need to know what happens.
New Girl
Season 1, Episode 13, "Valentine's Day"
Season 4, Episode 15, "The Crawl"
Another good sitcom to go to for all holidays, New Girl manages to put a fun modern perspective on Valentine's Day with two very different episodes.
Gilmore Girls
Season 6, Episode 15, "A Vineyard Valentine"
So maybe it's a Logan episode that ends in a huge fight. So maybe it's one of the cringier Luke and Lorelai episodes. Still a Valentine's Day episode! Gilmore Girls doesn't play by your rules.
So many options! No matter what your plans are, these will keep you occupied.