39 Sean Spicer In Bushes Memes He Can't Shrub Off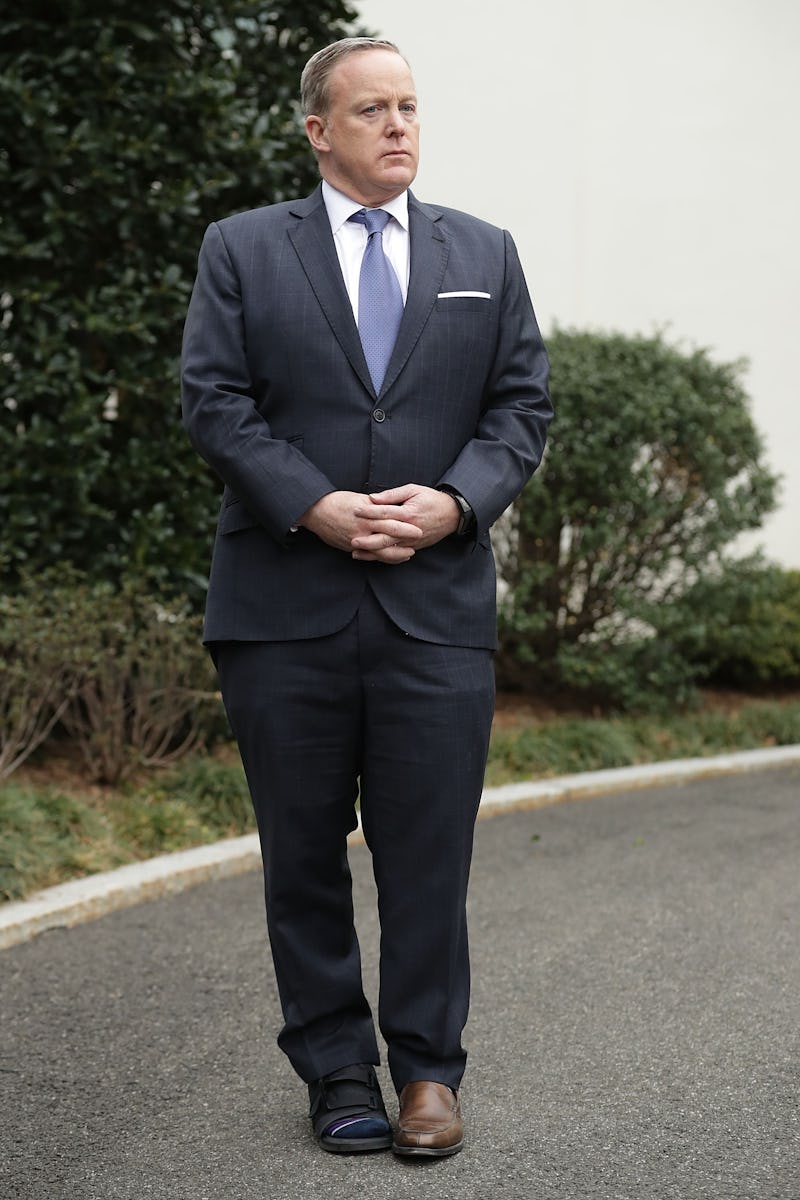 Chip Somodevilla/Getty Images News/Getty Images
Melissa McCarthy might play a spot-on Sean Spicer on Saturday Night Live, but sometimes there's nothing better than the man himself. According to reporters at the White House on Tuesday night, Spicer hid in the bushes to avoid answering questions about the firing of FBI Director James Comey. That sounds like a joke in and of itself, but Twitter users created so many Sean Spicer in the bushes memes that are pure comedy gold.
From jokes about George W. Bush to well-edited GIFs, the memes and tweets offered insight and possible answers to the many questions people have. Why was Spicer in the bushes? Did he think no one could see him? Is he still there? No, seriously, where the heck is he? Is he officially a Spice Girl now? Is there a photo of him in the bushes? Because that would really, ah, spice up my life.
Seriously, though, Spicer eventually came out of the bushes to answer reporters' questions after stating no one could film him. According to The Washington Post, Spicer insisted the lights on the cameras be turned off, and he then finally answered questions in "near darkness between two tall hedges."
It's funny if you forget that this is the man tasked with communicating information from the White House to the American public. These memes and tweets are way funnier.
I'll Just Be Back Here
Find Someone Who
Heh, Get It??
I Need This Pic
Safety First
There You Are
Just Shrub It Off
Gonna Find You
Just How He Likes It
Gonna Need More Than That
This Is Fine
You Can Find Him Easily Though
Oh, Hi!
Asking For A Friend
It's Not Every Day
Still Funny
Can't Wait For The Next Show
Waiting...
#Same
Tell Me More
FAKE NEWS!
If I Just Stand Still Enough
Shhhh!
Pray For Reporters
Keeping Up With Sean Spicer
But Like, Where Is He Now?
Hoppin' Down The Bunny Trail
Can You Find Him?
Thank You, Sean
He's Mastered It
Bushy Spice!!
What's The Big Deal?
Real-Time Footage
I Like The New Decor
Bye Bye
Those Flowers Though
Psssst!
A Little Sing Song
Classic Spicey