4 Women Have Now Accused Neil deGrasse Tyson Of Sexual Misconduct — Here's What We Know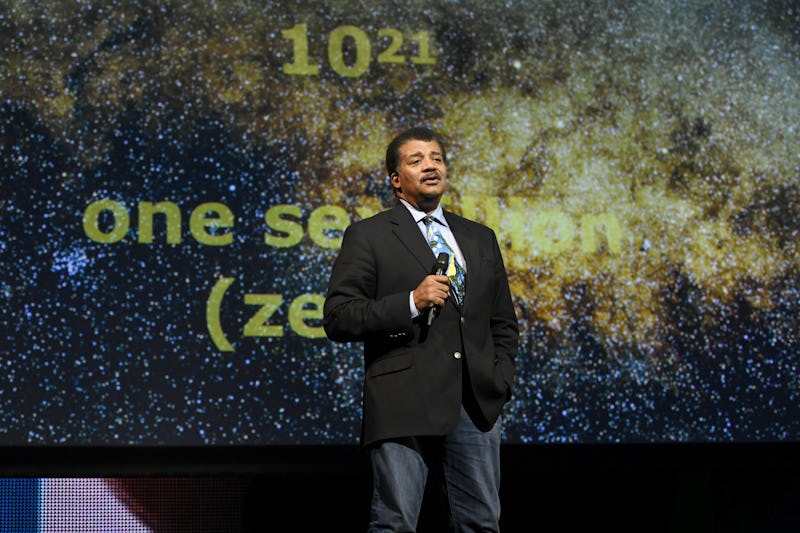 Craig Barritt/Getty Images Entertainment/Getty Images
In April 2010, Tchiya Amet confronted astrophysicist Neil deGrasse Tyson in a theater, and alleged that he had drugged and raped her when they were both at the University of Texas at Austin in the 1980s. In an exhaustive BuzzFeed News report, Amet said she repeated these allegations multiple times in following years but was not widely believed. However, Amet's story is once again getting attention, because recently, three more women have accused Tyson of sexual misconduct. Tyson has denied some of their allegations, and Bustle has reached out to him for comment.
At the end of November, Katelyn Allers, an associate professor at Bucknell University, and Ashley Watson, a former assistant to Tyson, both spoke to Patheos to go public with allegations of sexual misconduct against Tyson. According to Vox, their stories didn't immediately generate controversy in the way that other #MeToo-era allegations have.
On Thursday, however, BuzzFeed News published a detailed story — after nearly three years of reporting — about the allegations against Tyson, including from a fourth, unnamed woman who alleged that Tyson had sexually harassed her at a holiday party in 2010. Tyson denied the allegations from Amet — now a therapist, musician, and wellness coach — Allers, and Watson in a lengthy Facebook post published on Saturday, in which he recounted his own version of events and wrote that he would welcome an investigation. He has not yet responded to the fourth woman's allegations. Below is a breakdown of each woman's allegations, as well as responses from Tyson's employers.