41 People Explain Why They Are Resisting Trump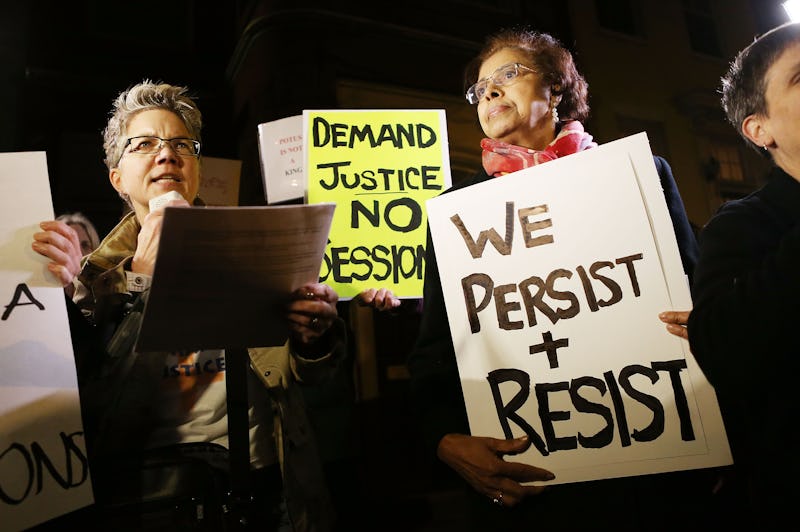 Mario Tama/Getty Images News/Getty Images
The Trump administration has made some jarring decisions in less than a month, ranging from arguably ill-informed cabinet appointments to controversial executive orders. The administration's decisions have (understandably) begun to inspire large resistance movements in the United States, and on Wednesday evening, people used Twitter to explain why women are resisting the administration and its policies across a variety of issue areas.
The idea to share one's motivation behind deciding to "resist" seemingly stemmed from the confirmation of Senator Jeff Sessions as U.S. Attorney General on Wednesday evening and a related tweet by the official Women's March Twitter page. On their page, the Women's March indicated that, following the Sessions confirmation, they are "fired up for resistance," and implored other Twitter users to tell them "why they resist."
This initial tweet by the Women's March page quickly sparked a flurry of responses on Twitter, and the hashtag #WhyIResist began trending. In their responses, people addressed a whole host of reasons why they are choosing to resist during the Trump administration, including, for example, ensuring racial and gender equality and preserving the future of the country and planet. These sentiments, and many more, are reflected in the following list, which features 41 individuals explaining in their own words why they believe it is so very important to resist during the Trump administration.
1. Because Not Resisting Is Not An Option
2. For The Women Who Have Fought Before
3. To Protect Children's Education
4. To Be On The Right Side Of History
5. Because Bigotry Is Not Normal
6. Because Basic Human Decency Is Not Political
7. For The Planet
8. For A Woman's Right To Choose
9. Because The United States Should Be Better Than This
10. For The Promise Of America
11. Because Privilege Comes With Responsibility
12. For Immigrants & Their Families
13. Because Love Trumps Hate
14. Because Inaction Is Complicity
15. Because America Was Already Great
16. Because "We Won't Go Back"
17. For The Future Of The United States
18. Because "We're All Immigrants"
19. Because America Is Unique & Must Be Protected
20. Because Election Interference Is Unacceptable
21. To Fight Sexism
22. Because Healthcare Should Be A Human Right
23. Because Abuse Occurs When Power Is Unchecked
24. For Those Who Can't
25. Because We Must Stand In Solidarity
26. Because Congress Needs A Reminder
27. To Uphold The Pledge Of Justice For All
28. To Continue "The March"
29. Because Democracy Is In Danger
30. For The Children Of Syria
31. Because Women's Bodies Are Their Own
32. So Future Generations Aren't Fearful
33. Because We Can't Backpedal On Human Rights
34. Because Silence Is Not An Option
35. Because Neutrality Does Not Apply In Situations Of Injustice
36. For Every Human Being
37. Because "We the People" Means All People
38. Because The Alternative Is To Surrender
39. Because Black Lives Matter
40. Because Facts Matter
40. Because There's Still Hope
There are evidently a myriad of interrelated reasons why people have chosen to resist during the Trump administration, and these tweets reflect just a small sampling of these reasons. It is enlightening and inspiring to see so many people share the impetus behind their decision to resist, and hopefully this act of sharing will also result in even more collaboration among those seeking to protect rights and achieve positive change through resistance and activism.