5 Common Chinese New Year Traditions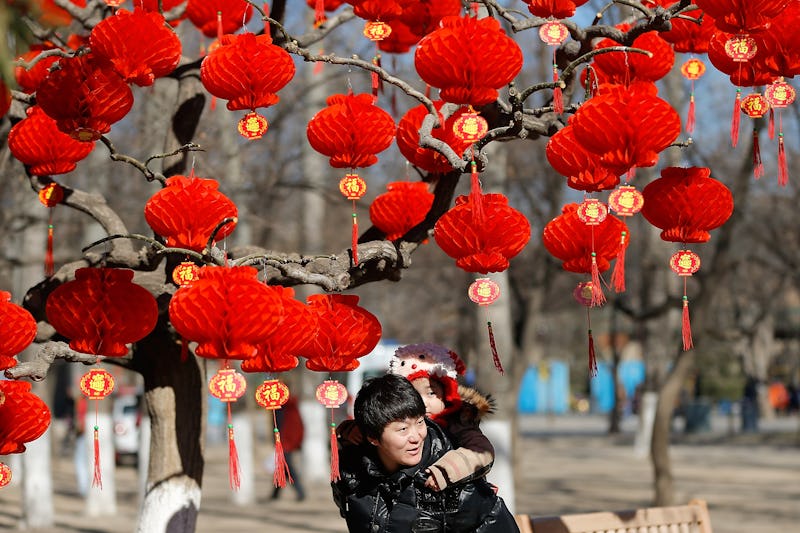 Lintao Zhang/Getty Images News/Getty Images
Saturday, January 18, marks the first day of the Chinese New Year, ushering in the year of the Fire Rooster for millions of people all over the world. Chinese New Year traditions vary by region (China is a massive, diverse place, after all), but there are common customs observed by people of Chinese heritage around the globe. Though every family has its own traditions, Chinese New Year's celebrations share common themes of renewal, gratitude, and family.
Also known as the "Spring Festival," Chinese New Year happens in late January or early February — as opposed to January 1 —because the holiday is scheduled according to a lunisolar calendar — that is, a calendar timed to the cycles of the moon and sun. (The United States, in contrast, uses the Gregorian calendar.) Every year, Chinese New Year falls at some point between January 21 and February 16.
In China, celebrations of the new year are massive, and make traditional U.S. New Year's festivities (you know, glitter, champagne, watching the ball drop, and tears) look paltry in comparison. Festivities will begin tonight, New Year's Eve, and extend for 15 days. Most of next week will be an official public holiday in China, and people will travel all over the country to gather with family and friends. Of course, there will also be significant Chinese New Year celebrations in many other countries, including the United States.
Read on for a few of the most common ways that people will welcome in the year of the Fire Rooster:
1. So fresh and so clean, clean.
In the days leading up to Chinese New Year, people prepare by doing an extremely thorough house cleaning. The thinking is that, by removing any dust or dirt that has built up in the last year, you can sweep away evil spirits and bad luck and start the new year with a clean slate. It's also a good idea to get some new clothes, so that you can start off fresh and able to welcome in good luck.
HOWEVER. After midnight on New Year's Eve, you need to put the cleaning supplies away for the first day of the new year, in order to avoid washing away any of the good luck you've just accumulated. And you shouldn't wash your hair for that first day, either, because, according to The Telegraph, the Chinese word for "hair" is pronounced the same way as the first syllable of "Facai," meaning "to become wealthy." The concern is that if you wash your hair, you might also wash away good fortune.
2. New Year's Eve dinner.
Families assemble from far and wide on New Year's Eve for the most important meal of the year — the"reunion dinner." At the beginning of the meal, the family members (often sporting new clothes) gather to honor and make offerings to the family's ancestors and household gods. Then, everyone feasts! The foods prepared for the meal vary according to region and tradition, but fish and dumplings (particularly in the north) are common features.
Many of the dishes are chosen because of their ties to good luck, blessings, or wealth. For example, the Weatherhead East Institute at Columbia University explains, "One very common course is a whole fish, the term for which, yu, is homophonous with the word meaning surplus or abundance, and therefore auspicious." Similarly, some families serve shrimp because the Cantonese word for "shrimp" sounds like "ha," or laughter, and is therefore a way of bringing happiness into the meal.
3. Decorating with red.
In Chinese culture, the color red serves as a symbol of luck, happiness, and prosperity, and is the dominant hue of New Year festivities. According to Reader's Digest, the focus on red stems from folklore about a half-bull, half-lion beast called "Nian" that would storm into villages and eat livestock and children. Eventually villagers discovered that Nian was afraid of loud noises, fire, and the color red — so red became a symbol of good luck.
Today, people celebrating Chinese New Year decorate their homes with red lanterns and red banners and posters bearing couplets and illustrations of good fortune.
4. Red envelopes.
Celebrants ring in the New Year by giving gifts of red envelopes, also known as "honbao" in Mandarin. The envelopes contain gifts of money, usually given to children or the elderly, and the envelopes themselves — bearing red for prosperity and happiness — are considered symbols of good luck.
These days, many people are using apps to give these traditional New Year's gifts electronically. The Seattle Times reports, for example, that last year people sent 8 billion hungbao electronically via a Chinese app called "WeChat" for the Chinese New Year.
5. Firecrackers
Given the power of noise and fire to frighten away the monster Nian, it's no wonder that firecrackers are popular features of Chinese New Year celebrations. People set of fireworks throughout the 15 days of festivities, but it's especially important to do it right after the stroke of midnight on New Year's Eve, as a way of warding off evil and bad luck, and welcoming in happiness and good fortune for the new year.
In recent years — including this one — Chinese officials have tried to crack down on the public's use of fireworks during New Year's festivities, in an effort to reduce smog.