5 Dudes You Encountered Growing Up In The Country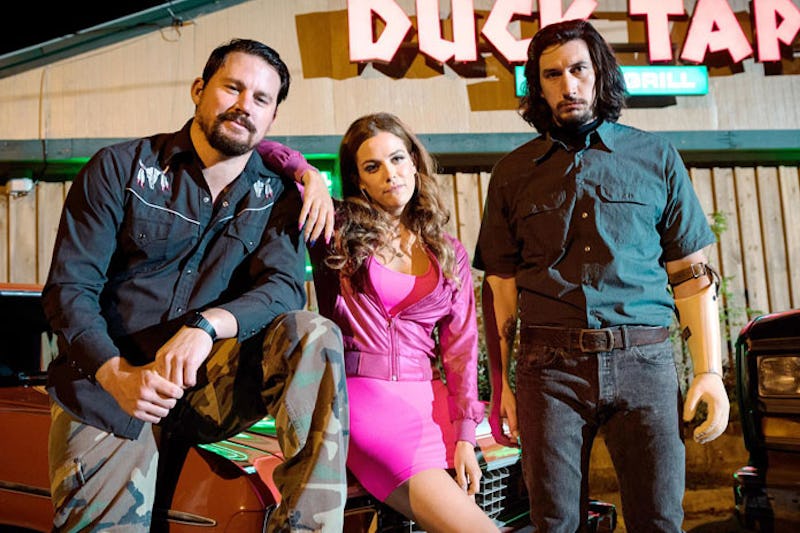 We all meet people during our lifetimes who are unique and special in their own ways. But if you grew up in a place that can definitely be classified as rural, there are probably certain types of guys you met. Many of these guys had farmer's licenses before they had regular licenses.
If that sounds familiar, you're likely to recognize a few of these characters in the upcoming film Logan Lucky, directed by Steven Soderbergh (Ocean's 11, 12, 13 and Magic Mike). The film follows three siblings Jimmy, Clyde, and Mellie — a family from the hollers of West Virginia — who try to pull off a heist during a NASCAR race in order to reverse a family curse. And whether we're following the hustling and wisecracking Jimmy or the slightly eccentric Clyde, the film showcases a series of these recognizable dudes.
You know 'em like those backcountry roads you ride all the time. Maybe it's the guy who turned his high school obsession with dirt bikes into a lifelong career. Perhaps you had a next-door neighbor that was always working on his car when he wasn't causing trouble on the weekend. Having grown up in the country myself, I can say that you also probably have a genuine affection for all of them.
Whatever the type, we've documented a couple of them below. Catch your favorite country boys Channing Tatum, Adam Driver, Daniel Craig, Sebastian Stan and Seth MacFarlane in Logan Lucky, hitting theaters August 18.
1. The Guy Who Isn't Afraid To Get His Hands Dirty
Where they drink: Any dimly-lit dive bar conveniently located near the auto body, and of course the drink of choice is a tall boy.
Instagram feed consists of: Various car shows that they frequent on the weekends; pictures of their cat who happens to be named after a country music legend; selfies with witty captions that make you wonder, "Am I attracted to this person?"
Uniform: Baggier jeans that are immune to the trends, plus a regular-old t-shirt, topped off with a cap. A boiler suit if they're on the clock.
Opening line on a dating app: "Sup?" They get straight to the point.
2. The As-Country-As-It-Gets Guy
Where they drink: Hanging out of the bed of a pickup truck in a convenience store parking lot; in a tractor.
Instagram feed consists of: Mostly scenic shots of the woods at the crack of dawn, 'cause the country is freakin' beautiful.
Uniform: Head-to-toe camo, scuffed-up boots, and outdoor utility gear that others wear ironically, but they're wearing totally authentically. Cut-off denim vests in the summer.
Opening line on a dating app: "Hey. Did you catch the sunset last night?" This one is a secret romantic.
3. The Rebel
Where they drink: Somewhere dangerous and mysterious... like under some bleachers, or near a train track.
Instagram feed consists of: Pictures of himself on his bike or shots of himself adding a new tattoo to his already inked-up body. Boy's as bad as they come.
Uniform: A worn-in pair of jeans, soft-as-a-lamb's-ear cotton tee, and some steel-toed boots.
Opening line on a dating app: "You look like trouble."
4. The Good Time Guy
Where they drink: Literally anywhere at any time.
Instagram feed consists of: Plentiful beer funneling / chugging videos that end in someone gagging or screaming "HELL YEAH," and country music concerts with visible hands in the crowd holding lighters. Also, the obligatory pictures with parents.
Uniform: Baggy khaki cargo shorts that have ample storage space, an unbuttoned plaid short-sleeve shirt, finished with some worn-in sneakers.
Opening line on a dating app: "Hey darling, how was your weekend?" Sweet, simple, and succinct.
5. The Gentleman
Where they drink: You can find them sipping a chilled bourbon or a mint juleps on a patio. This guy likes to be a little more ~cosmopolitan.~
Instagram feed consists of: Countless group shots with college buddies and colorful socks tucked into leather loafers.
Uniform: A button-down (obvi) with cuffed, slim khakis, tan boat shoes and some kind of sock with personality.
Opening line on a dating app: "Anyone ever tell you you're beautiful? *Insert winky face.*" Responds quickly after with "I'm Dean, by the way." Always the charmer.
This article is sponsored by Logan Lucky, in theaters everywhere August 18.