5 Female Stunt Performers Reveal What It's Really Like To Kick Butt On-Screen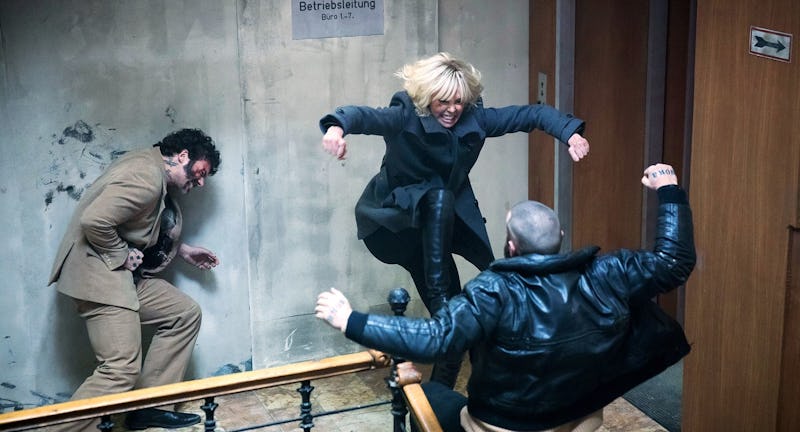 Focus Features
You may not know their names or even their faces, but if you watch TV, go to the movies, or play video games, you know their work. Stuntwomen have been making on-screen magic happen for decades, masterminding and performing the car chases, bare-knuckle brawls, and wirework that take your breath away. And they're doing almost all of it under the radar. To find out what it's like to be a female stunt performer now — and what it was like to be one when women were first allowed in the roles — Bustle went straight to the source, interviewing five stuntwomen whose tenure in the industry ranges from a few years to four decades.
These women aren't only physically tough; they're also making their way in a field that is known for being tricky to navigate and low on recognition, despite the effort and the risk involved. For female performers especially, there's so much more that goes into being a stunt performer than strapping on pads and jumping off buildings — and not all of it is positive. Thankfully, the industry seems to be on the verge of major change, with professionals fighting back against practices they see as discriminatory and unsafe. But take it from these five stunt professionals themselves, all of whom speak candidly about the past, present, and future of the business.
The Stunt Performers Who've Been In The Business For 40 Years
Anthony Mongiello/Courtesy of Diane Peterson
Sharon Schaffer & Regina King on the set of 'Southland'/Courtesy of Sharon Schaffer
How They Got Started
Diane Peterson was working as an actor on the set of the '70s crime series Kojak when she saw a car chase being filmed and was bitten by the bug. "I went over to the stuntmen when they were done, and I said, 'I'd like to be a stuntwoman. I ride horses and motorcycles and I race my car in quarter-mile drags,'" she remembers. "And they said, 'Forget it, honey, we put the wigs on and we do it.'" Yet Peterson kept knocking on the door, offering herself as a double and challenging the assumption that women weren't as qualified stunt performers as men. And once she proved herself, she says, the male stunt performers eventually considered her to be "in the club."
On the other hand, Sharon Schaffer's entry into the business was a little more happenstance. "I was just a wandering, aimless person failing at being a college student," she says, recalling how she dropped by a family friend's training gym one day in the late '80s, just to say hello. And things escalated from there. Soon, she found she had the skills stunt coordinators were looking for, and was landing work in movies like The Blues Brothers and Scarface.
"Black women just didn't have those kind of backgrounds, they just didn't have that kind of exposure growing up," Schaffer says, adding that she believes she was only the third black female stunt performer in the business at the time. "Next thing I knew I was being hand carried to Universal for my first job."
On Discrimination In Stunts
Both Schaffer and Peterson believe that the stunt business has changed dramatically in the decades they've been working, but seem to have different takes on whether it's progressed or regressed. Peterson, for instance, believes that "wigging," the practice of having male stunt performers double female characters, is mostly a thing of the past. "Things have gotten really remarkably better," she says, referring to the time that she's been in the business. "And I don't think any man would dare put a wig on, especially if they're in LA to double a woman." Schaffer, however, sees it as an ongoing — and even worsening — problem. "It's very demoralizing," she says of discrimination in stunts. "It can be very depressing dealing with some of this racism and sexism."
In 2017, stunt performer Deven McNair filed a discrimination complaint to the Equal Employment Opportunity Commission, per Deadline, claiming that the male stunt coordinator on the film she was working on refused to allow her to double for Kate Bosworth in a particular stunt, instead doing the work himself. McNair's complaint launched a SAG-AFTRA investigation that ended in the union making a statement condemning the practice of wigging, though it did not opt to penalize the production company, as Deadline reports.
Schaffer considers herself "half-retired" now, but she's been raising her voice to demand changes to the field. She notes how "prestigious" stunt jobs like driving that pay better and are lower risk are sometimes given to men over women, recalling an occasion where she says she was told by a coordinator, "'I'm not letting a girl do it, period.'"
"If I can get back every job I lost to paint down or wigging, I would be a much richer person right now," Schaffer says, the first term referring to the casting of stunt performers of a different race than the characters they're playing. "One job begets the next, but if you didn't get the first one and you didn't get the second one, then there is no third one. And so this cycle of saying 'we' are not qualified, 'we're' not good enough, it just continues on. That's to me, the slow build up to where paint downs and wiggings are just back with a vengeance."
For that reason, Schaffer says that she's trying to rally young stunt performers now to commit to a policy of "if you see something, say something" in regards to discriminatory hiring and unsafe practices. But, she claims, performers are reluctant because they fear losing opportunities. "They don't want to follow in my footsteps, because what they see is [that] a big mouth gets you blackballed. And they're right to a certain degree," she says. "What we had back in the olden days was the ability to form a coalition and have each other's backs … We were there for each other, we were a family. That is done too."
Staying Safe On Set
Peterson agrees that it's up to the stunt performers and coordinators on set to demand the safest possible conditions for the work. It's in the best interest of everyone involved for the rest of the production to listen, even if it means more time (and thus, more money) to make sure the stunt is plotted out thoroughly.
"I would rather air on the side of safety, than, if I see something and I didn't say, 'That doesn't look right,' and someone got hurt?" Peterson explains. "I'd have to live with that."
Whether all the due diligence has been done or not, the risk factor can be different for women, considering that hockey pads don't exactly go with bodycon dresses or bikinis. Female performers are more likely to be playing characters who are wearing tight or little clothing, but Peterson has seen advancements there as well.
What They Want You To Know
As for what misconceptions fans may have about how stunts work, Peterson believes that the stunt performer contribution can get lost before the movie or TV show gets to audiences. "I think that's a misconception, when [audiences] think that actors did their own stunts," she says. Schaffer, meanwhile, wants to raise awareness amongst those consuming this media that wiggings and paint downs still occur.
"Usually when I tell somebody about this, they're stunned," she says.
The Stuntwomen Who've Been In The Business For 20 Years
Charlize Theron & Monique Ganderton on the set of 'Atomic Blonde'/Courtesy of Monique Ganderton
Jade Quon on the set of 'Transformers: The Last Knight'/Courtesy of Jade Quon
How They Got Started
Avengers: Infinity War assistant stunt coordinator Monique Ganderton become interested in stunts in the early '00s, when she noticed some of her colleagues at her modeling agency "roll down stairs and shoot guns" on the side. So she wrote a "long, long letter" to a stunt coordinator asking for help and resources. "He calls me, and he's like, 'You are either the craziest person, or you genuinely are very interested and you just don't know anything.' And I'm like, 'It's probably the second,'" the 38-year-old says with a laugh.
Jade Quon, meanwhile, has been working steadily since 1999; she's appeared in everything from The Hunger Games series to The Walking Dead. She "grew up with Tae Kwon Do, gymnastics and dance, everything from ballet to breakdance," she says via email. (All other interviews in this piece took place over the phone.) And all that hard work was worth it. "All the years of training that took away what I thought was my childhood, turned into the foundation of my future," she adds. "Who knew?"
How They Keep Booking Work
Though neither Ganderton nor Quon seem to be having trouble booking work, there are less stunt jobs for women than there are for men, according to Ganderton, which makes the field quite competitive. But, she adds, the internet has completely changed the game when it comes to getting work. "I can just search the entire world for people that I need for movies and bring them in, just from the internet," Ganderton says, which helps her, as a coordinator, find the performers with the skills she requires with pinpoint accuracy. With a camera phone and YouTube, performers have the ability to show their stuff to coordinators from anywhere.
There's immense pressure involved in the business, and not just because of the death-defying tricks these performers are trained to do. They're also doing these stunts on big, moving Hollywood sets, with shooting deadlines and cranky crew members. Ganderton says that one of her mentors urged her early on to let go of her inhibitions and shyness. "Because you're going to have 100 people staring at you in the middle of the night, wanting to go home, being like, 'Hey, just get the damn shot,'" she recalls.
And though it's true that skimpy costumes can be a hurdle for performers, Quon remarks that the opposite can be an issue as well. "You're in a crazy-heavy, movement-restricting outfit and expected to move quickly," she says. "Or maybe you're in a character costume with a 30-pound head strapped to your neck with little to no visibility, but somehow, you just make it work."
On Discrimination In Stunts
When it comes to speaking up about less-than-ideal conditions, Ganderton notes that traditional gender roles can play a part on both sides of the spectrum. "I think men have a harder time speaking up about things sometimes. I've seen it. Because [they] don't want to be like, 'Oh, I'm afraid to do something,'" she points out. On the other hand, she thinks that women are perhaps more likely to forge ahead with a stunt that's above their skill level or not planned correctly, simply because they fear getting a reputation and losing work. "You don't want to be difficult. I've definitely seen that side of it," she says.
"Push back [against stunt performers and coordinators] usually comes from outside of our department," Quon explains. "Usually from producers, who either have a budget problem, time crunch, or don't understand exactly what we do. Our job isn't 'to get hurt' — our job is to make the scene as real as possible take after take, and still be able to go home to our families and return to work the next day like everyone else."
Like Schaffer, Quon says she's noticed that the stunt community has become less centralized, though it is still small. There's more organization and cohesiveness needed for advocacy to yield the results, like production fines for wigging and paint downs, that stunt performers want.
"Some blame the tax incentives taking work out of state and having 'local hires only' creating different pockets of performers," Quon says, claiming that the "tight-knit" group of the past is no more. "Thankfully things like the internet and social media keep us connected and accessible to each other. We as a community need to be more proactive on things affecting our industry, our contracts, and our future."
What Actors Bring To The Table
According to Ganderton, though weighing in on safety issues is vital, you also have to keep your ego out of the way on set. "I've doubled women who really want to do as much as possible, and if that's the case, I'm not competitive," she says. "I'm like, 'Hey, what are your strengths? Are you right-handed or left-handed? Okay, you're right-handed, let's throw more right punches because you're going to look better.'" She notes Atomic Blonde star Charlize Theron as a particularly active person to double. Ganderton also served as the assistant stunt coordinator on that film, and the collaboration yielded some glowing reviews of the fight scenes, as well as two 2018 Taurus World Stunt Awards.
About That Academy Award...
As exciting as that is, the Taurus ceremony doesn't get as much attention as those other major film awards. In 2016, a group of stunt performers protested the lack of a stunt Oscar outside of the Academy of Motion Pictures Arts and Sciences offices, presenting a petition with over 500,000 signatures. According to Deadline, the fight for Oscar recognition had, at that point, already been going on for more than 25 years. The Academy announced some major changes this year, as Vanity Fair reported, including a category for Outstanding Popular Film (though of how eligibility will be determined, many are skeptical), and yet, still no dedicated trophy for stunt coordinators for pulling off these incredible, eye-popping moments.
"These big-budget films often get their fame and fortune because they are action movies," Quon says. "Moviegoers like the fight scenes, the car chases, the big explosions … that's all a team effort, carefully planned, calculated and rehearsed by a stunt coordinator."
While she'd love to see stunts recognized in that way as well, Ganderton also treasures the relative anonymity her job allows. "It's kind of nice, you can be on set, you're a rock star, but you can still sit on the ground and hang out with whoever…" she says. "And you can work on any movie, whether it's good, bad...The worst movie of all time, you can still work on it and get paid the same!"
The Stuntwoman Who's Just Starting Out
How She Got Started
When she decided to pursue this career, former special education teacher Jazzy Ellis, now 30, cold-contacted performers and coordinators in her former home of Louisiana until a few invited her to come and train. She's been doing stunts professionally for six years, but the jobs don't fall into her lap, nor anyone's, it seems. "It's still a hustle every day," says the performer, who's appeared in Black Lightning, Luke Cage, and Infinity War.
Stunt performers aren't cast in the same way that many actors are; they don't show up for calls or commonly get sent out by agents. It really can be all about who you know. As stunt coordinators build their teams for TV shows and movies, Ellis says, they reach out to those they already know and trust. That can make it difficult for newcomers to break into the field.
"I feel like stunts is a very friends-and-family-based industry," she explains. "So you're going to hire your friends when you're working … And if you're a male stunt coordinator, you're going to hire more of your male friends, because you're taking care of your people."
Staying Safe On Set
Meanwhile, the aforementioned wardrobe issue means that stuntwomen have to be ready for almost anything. "I'm expected to do fight scenes in six-inch heels and stiletto nails and a leotard or lingerie," Ellis explains, going on to point out that often, she doesn't know what the wardrobe will be until she's on set. There's no time allotted for rehearsing how the wardrobe will impact the mechanics of the stunt, she says, "So you kind of have to train on your own and learn how to do it on your own to be ready for it."
On Discrimination In Stunts
That boys' club atmosphere can be insidious, when it prevents a qualified woman from getting work. Ellis claims that she knows of two instances in the past year where the controversial practice of wigging was employed. She's taken a personal interest and has actively fought discriminatory hiring practices, speaking at the Georgia State Capitol about the prevalence of wigging; paint downs; and the casting of able-bodied performers to play characters with disabilities. Ellis also proposed a SAG-AFTRA contract amendment that would fine production companies for these practices, which she says was soundly and quickly rejected.
At the moment, there is no SAG-AFTRA ban against a male stunt performer doubling a woman or a a white performer doubling a person of color. The contract does state that coordinators should "endeavor" to hire women and people of color, but performers like Ellis want more. In March of this year, per Deadline, the union introduced a list of new standards and practices, establishing the timeline of the investigation of reported violations and encouraging stunt coordinators to report any violations of contract policies, but still no guaranteed penalty for wiggings and paint downs. "Our relevant contracts consider the practice of 'paint downs' and 'wigging' as presumptively improper and prohibited," a SAG-AFTRA spokesperson said in a statement to Bustle. In the event of a complaint, the spokesperson continued, "A notice of contract violation can be sent to signatory producers that requires they investigate, report back on what happened, why it happened and what they have done/are doing to ensure it doesn't happen again."
What Actors Bring To The Table
While there's strife between the community and their union as of late, Ellis says that she's always been protected and supported by the coordinators with whom she's worked. And she's always found the actors she's worked with appreciative and respectful. But the final product is always the focus. "I've doubled Sanaa Lathan a couple times, I've doubled Elizabeth Ludlow a couple times. There's actresses I've doubled multiple times, and I've built relationships with them over the years, but for the most part, I try to go in and do my job and leave," Ellis says. "The day isn't about me. It's a team thing. My job is to make them look good."
In all of these conversations, success in the stunt business comes across as a bit of a balancing act. Performers are weighing safety against risk; personal development against a team mindset; and work against politics. As a new generation of stuntwomen enters the field, they'll have to figure out where their own lines are drawn.