5 Insider Car-Buying Tips To Make Things Simple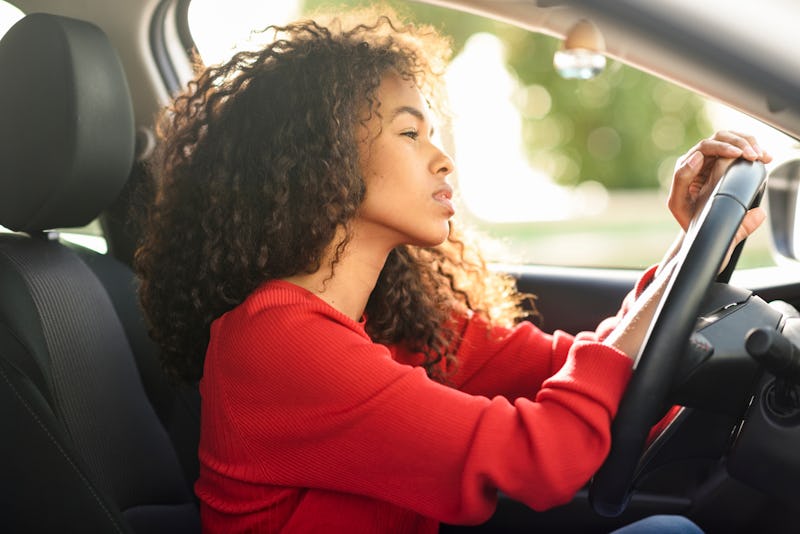 No adulting task feels more intimidating than that of buying a car. It's one of the biggest purchases a millennial will make in their lifetime, and the process is a little like learning to parallel park for the first time: anxiety-inducing, but incredibly rewarding after-the-fact.
While there's nothing quite like being in the driver's seat of your own whip, it can be tricky AF to navigate the complex world of car-buying, especially if you're a first-time buyer. Only after you've dealt with the intimidating parts — the negotiation process, the safety research, the insurance application et. cetera — do you get to enjoy the "blasting top 40 from the freedom of the open road" part. Choosing the car that's right for you is the first step.
From convenient smartphone integration to important safety features, there are so many options to choose from. To help break down the chaos of car-buying, we talked to the experts. Brian Moody, executive editor for Autotrader, leveled with us about a couple tips to follow when deciding what car is right for you as a first-time buyer. You're welcome.
1. Consider 'Need-To-Have' Vs. 'Nice-To-Have'
The enormous number of available car features is enough to make anyone say "I just can't." It can get confusing when parsing through what amenities are nice-to-have, and which ones you actually need to be a human on the road.
In Moody's "nice-to-have" category are leather seats and seat-cooling systems — both of which sound amazing, if I do say so myself. However, these aren't the features that will protect you in a collision or make your commute easier.
The safety features that are necessary in Moody's opinion include back-up cameras (which, BTW, are a requirement for all new cars), and two related features called forward collision warning and forward collision mitigation.
"As you are driving, if you are approaching a car at too high of a speed, your car computer does the math and forward collision warning signals you to brake," Moody explains. "Forward collision mitigation actually intervenes and applies the brakes." That honestly sounds like magic — or just science.
2. Don't Be Afraid To Buy Used
Calling a new car a 'big' purchase is an understatement: according to automotive experts, the average new car costs around $37,000. If you're not ready to make that investment just yet, Moody recommends looking into buying a used car. The selection of used cars to choose from is virtually limitless, and with the money you save, you could very well be able to afford vehicles with the additional features that matter to you, that may not have been an option before.
If you do decide to buy a used car, Moody recommends requesting a vehicle history report and getting the car inspected by a mechanic before signing any paperwork. That way, you can ensure you're getting what you're paying for and that your new-to-you vehicle is literally 'as good as new!'
3. Smartphone Integration Is Crucial
Determining the most important feature for new car owners definitely depends on the driver, but there's one feature Moody believe stands out among the rest, and that's the addition or inclusion of Apple CarPlay or Android Auto. Basically the same solution for people who have different types of phones, Apple CarPlay and Android Auto allow you to safely use your phone in the car. Considering how dependent our generation is on their phones, this is seriously solid advice.
"It's an amazing combination of safety and convenience," Moody says. "You can make and receive calls and texts hands-free, you can use your favorite phone apps, and you can navigate to an address texted to you easily. Personally, I wouldn't buy a car without this feature. That's how good it is."
4. Cruise Control Will Make Future Road Trips Easier
Normal cruise control is something that's been around for decades, but adaptive cruise control is a new safety feature that uses sophisticated sensors to automatically have your car match the speed of the car ahead of you no matter how fast or slow they are going.
"Say I have my cruise control set to 80 mph and I'm cruising along and another car pulls in front of me and it's going 68 mph," Moody explains. "My car would see that car, slow down to 68 mph, and then when that car moves away, my car will return to its original speed. I just love it for road trips!"
5. Before You Do Anything, Do Your Research
So, this isn't really a "feature" per se, but before you step foot in an auto dealership, Moody recommends doing as much research as possible from the comfort of your own home. Go beyond typical auto websites to search within online forums, and ask friends and family about their own cars to get real people's honest reviews and feedback regarding their vehicles.
And when you find the car you love, take the things you use in everyday life with you to the dealership to make sure your car fits your lifestyle.
"If you're a mom, bring your baby seat," Moody says. "If you play lacrosse, bring your equipment and make sure it fits in the trunk." If you frequently find yourself with a bunch of cargo, consider going for a hatchback model.
Follow these steps, and you'll find your car soul mate in no time. Next step is to start curating those all-important driving playlists.
This post is sponsored by Autotrader.