5 Healthy Avocado Dishes That Go Way Beyond Avo Toast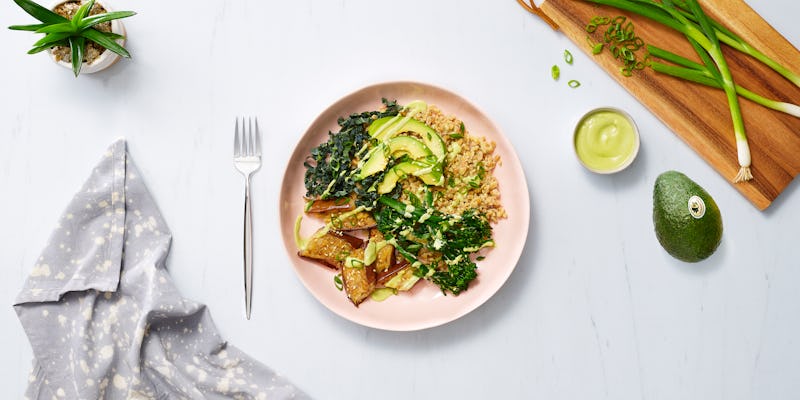 Gregory Reid
If fruits had a royal family, you can bet California Avocados would be the queen of the court — and for good reason! Not only is the green delicacy nutritious (with nearly 20 vitamins and nutrients), it's also incredibly delicious, which may account for America's recent avocado obsession! Perhaps almost as importantly, it's photogenic. In fact, reports show that more than three million new photos of the green delicacy whole, sliced, and topped on toast were uploaded to social media every day in the summer of 2017. Now that's a lot of attractive fruit!
Of course, avocado toast will never go out of style. Demand for the trendy menu offering has skyrocketed in restaurants across the U.S. But isn't it about time we take our go-to avocado staple to the next level?
We've decided that it is! And to do that, we've partnered with California Avocados to provide you with some fresh, photogenic, and delicious dishes to revamp your palate. Here are five healthy California Avocado dishes created by chef (and avocado aficionado!) Jen Beauchesne that go way beyond avo toast — and look good enough to eat!
Triple Green California Avocado Smoothie Bowl
I can't think of a better way to start the day than with a breakfast smoothie featuring fresh, hand-harvested California Avocados. With just 10 minutes of prep and blending time combined, this is the perfect, no-fuss meal to make between your morning workout and a busy day at work. Toppings are completely optional, but we suggest adding California Avocado slices, pomegranate seeds, sliced pineapple, coconut flakes, and chia seeds.
Ingredients (serves two)
1 ripe California Avocado
2 peeled and sliced frozen ripe bananas
½ cup chopped frozen pineapple
1 cup of almond milk
1 teaspoon spirulina powder
1 heaping cup of spinach
1 tablespoon honey
Instructions:
Add half of the California Avocado, frozen banana slices, pineapple, almond milk, spirulina powder, spinach, and honey to a blender, and blend on high until creamy and smooth.
Taste and adjust for creaminess and sweetness — add more almond milk and/or honey according to your preferences!
Divide between two serving bowls, top with desired extras, and enjoy!
California Avocado Gazpacho with Fresh Basil Oil
This gazpacho is a perfect pick-me-up on a hot summer day. Though it may take some time to prepare, you'll feel the sun-kissed glow and cool breeze of California in every spoonful!
Ingredients:
1 ¾ cup fresh basil leaves, divided
½ cup olive oil plus 2 tablespoons, divided
2 California Avocados, sliced
2 large heirloom tomatoes (yellow or green), roughly chopped
1 poblano pepper, roughly chopped
1 shallot, roughly chopped
5 cloves of garlic, divided
1 medium cucumber, peeled and roughly chopped
½ cup parsley leaves
2 teaspoons lemon juice
2 tablespoons red wine vinegar
4 ice cubes
1 small whole-wheat baguette
Salt and pepper to taste
Instructions:
For Basil Oil: Blanch one packed cup of basil in a small saucepan of boiling water for 10 seconds. Drain, then rinse under cold water. Pat basil dry with paper towels and transfer to blender. Add oil and puree until smooth. Transfer to small bowl or Mason jar.
For Gazpacho: Skip cleaning out the blender until you're done. Add 1 ½ California Avocados to the blender, reserving the second half for garnish. Next, add the chopped heirloom tomatoes and cucumbers, reserving 2 tablespoons of each for garnish. Add 4 garlic cloves, shallot, poblano pepper; ¾ basil leaves, parsley, lemon juice, vinegar, 1 tablespoon of basil oil, ice cubes, and season generously with salt and pepper. Blend on high until smooth. Chill gazpacho while you make the crostini.
For Whole wheat garlic crostini: Preheat oven to broil. Slice baguette and arrange in a single layer on a sheet tray. Brush with 2 tablespoons olive oil and season with salt. Broil until toasted, about 3 minutes, but watch them so they don't burn! Once removed from the oven while still hot, rub each crostini with 1 piece of peeled garlic.
To serve: Divide gazpacho among four bowls, and top with sliced California Avocado, chopped tomato, and chopped cucumber. Drizzle with basil oil and season with salt and pepper before serving with crostini!
California Avocado Miso Ginger Farro Bowl
This green grain bowl is packed with nutrients and is a great make-ahead option for lunches or warm summer evenings. Combining farro — a nutty, ancient wheat grain — with the tanginess of ginger and sweetness of California Avocados provides a full palate of flavor with every bite.
Ingredients:
2 California Avocados, sliced, divided
3-4 Japanese eggplants
1 bunch broccolini
1 tablespoon coconut oil, melted
¼ cup white miso paste
1- 3" knob of ginger, peeled and grated, divided
2 teaspoons sesame oil, divided
2 teaspoons sesame seeds, divided
3 scallions, green parts only, sliced, divided
1 lime, zested and juiced
1 teaspoon honey
1 tablespoon olive oil
½ a bunch of lacinato kale, ribs removed and thinly sliced
1 ½ cups cooked farro
Instructions:
Preheat the oven to 425 degrees before slicing the eggplant in half and cutting a crosshatch pattern into its flesh. Place eggplant slices on a foiled lined baking sheet and oil both sides with coconut oil, then roast for 10 minutes. Once heated, add broccolini to same sheet pan and brush with leftover coconut oil. Roast another 10 minutes.
While vegetables are roasting, whisk together miso, 1 tablespoon of ginger, 1 teaspoon sesame oil, 1 teaspoon sesame seeds and 1 tablespoon of water. After 20 minutes of roasting, remove the tray from oven, turn oven to broil and brush eggplant and broccolni with miso mixture. Broil for about 5 minutes until slightly charred.
Next, concoct the ginger California Avocado sauce. Place 1 California Avocado, remaining ginger, lime zest and juice, 1 teaspoon sesame oil, honey, olive oil, ½ cup of water and salt and pepper into a blender. Blend on high until smooth; adding more water to thin if necessary.
To assemble, mix half of the sauce with the cooked farro in a bowl before dividing the farro mixture among four bowls. Top each bowl with roasted eggplant, broccolini, remaining sliced California Avocado and kale, and top with remaining scallions and sesame seeds. Drizzle with remaining sauce to perfect the meal!
Farmer's Market Eggs Benny w/ California Avo-hollandaise
This guac-tastic version of eggs benny is all we've avo wanted (puns intended) on our breakfast menu — and now, it's a reality! This delicious recipe serves two, so pick someone very lucky to share it with. We're not saying you'll never order are a regular eggs Benedict again... but you'll never order a regular eggs Benedict again.
Ingredients for California Avo-hollandaise:
½ of a California Avocado
2 ½ teaspoons lemon juice
2 tablespoons good quality olive oil
1/3 cup of hot water
Salt and pepper
Ingredients for Eggs Benny:
4 eggs
1 heirloom tomato, sliced
½ of a California Avocado, sliced
4 chives, sliced
2 small ciabatta rolls, split in half and toasted
Instructions:
Fill a large, tall sauce pan with water and bring to a boil. I like to add a teaspoon of vinegar to the water, but it's completely optional. While this is coming to a boil, make the sauce.
In a blender, add ½ of the California Avocado (reserve other half for slicing), lemon juice, and hot water. Blend on high until smooth. Slowly drizzle olive oil into the mix and blend until combined. Season with salt and pepper.
Once water is boiling, bring to a simmer and poach the eggs.
After the eggs are complete, assemble the sandwich. Start building with toasted ciabatta and stack with heirloom tomato slices, sliced California Avocado, and egg. Top with the California Avo-hollandaise sauce, sprinkle with chives and add additional salt and pepper before enjoying!
Dark Chocolate California Avocado Tart with Red Wine Poached Cherries
It's customary to associate our favorite green fruit with breakfast or lunchtime meals, but to do so is severely limiting! This delectable dessert showcases the versatility of flavors, textures, and creations California Avocados make possible.
Ingredients for Crust:
1 8.8oz package of Biscoff cookies
¼ cup of coconut sugar, ½ teaspoon salt
½ cup of butter, melted
Ingredients for Dark Chocolate California Avocado Filling:
3 ripe, mashed California Avocados
5 oz. melted dark chocolate
¼ cup raw cacao powder
¼ cup maple syrup
3 tablespoons melted coconut oil
1 teaspoon vanilla extract
½ teaspoon salt
Ingredients for Red Wine Poached Cherries:
1 pound cherries, halved and pitted
½ cup sugar
1 ¼ cups fruity, California Pinot Noir
1 large peel of orange zest
1 vanilla bean, split
Ingredients for garnish:
1 California Avocado sliced in a rose shape
Instructions:
Preheat the over to 350 degrees. Line the bottom of a 9-inch springform pan with parchment paper, and spray with nonstick cooking spray. Clamp the ring around the bottom tightly.
For the crust, add Biscoff cookies, coconut sugar and salt to food processor. Pulse until cookies are finely ground, then add the melted butter and pulse until combined.
Press crust into prepared pan, going 2/3 of the way up the sides. Bake for 12 minutes. Allow to cool on wire rack while you make the filling.
Create the filling by melting the coconut oil and chocolate in microwave on half power for about 90 seconds or until melted. Cool slightly.
Add California Avocados, cacao powder, maple syrup, vanilla extract, and salt to food processor. Pulse until smooth. Add cooled chocolate and coconut oil mixture to food processor and pulse until completely smooth.
Add filling to the prepared crust and refrigerate for 2 hours.
As you wait, make the poached cherries. Combine cherries, vanilla bean, orange zest, wine, and sugar to a sauce pan and bring to a boil. Turn to medium heat and simmer for 10 minutes. Remove the cherries from the pot, and continue to simmer the liquid for 25 minutes until reduced by half and thickened. Mix the syrup with the cherries. Allow to cool completely, then refrigerate until ready to use.
When ready to serve, remove sides of the spring form pan, and transfer to a plate. Top with cherries, syrup, and California Avocado roses. Voila — it's time for dessert!
Credits: Photography, Gregory Reid; Recipes and Food Styling, Jen Beauchesne; Prop Styling, Alex Silva; Art Direction, Molly Kugelmann and Mary Blount
This post is sponsored by California Avocados.