5 Immigrant Rights Volunteer Groups To Join If You Want To Take On A More Active Role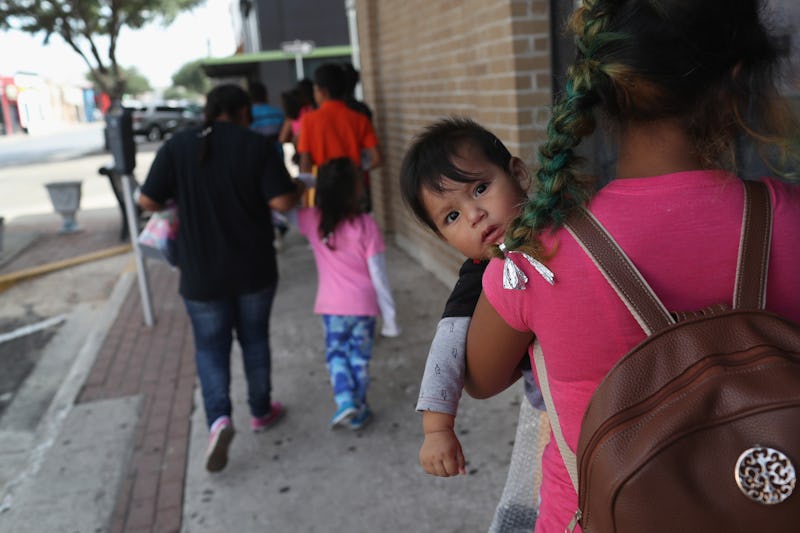 John Moore/Getty Images News/Getty Images
Trump may have recently put an end to the family separation policy that inspired rage across the country and throughout the world, but that doesn't mean that the devastation of the policy isn't still being felt. Thousands of detained children are still in detention facilities with no clear plan by the government as to how they will be reconnected with their families. But if you're looking to get physically involved in the fight to reconnect these detained children with their families, there are several immigrant rights volunteer groups that are looking for volunteer work in the months ahead.
On June 23, the Trump administration finally unveiled its planned resolution for the family separation policy: they will reunite families in the name of deporting them together. According to Vox, this is a less than ideal situation, for multiple reasons. For one, this still could lead to a lengthy amount of time spent in separate detention facilities, as the process of ordering deportations for thousands of people doesn't happen overnight.
Secondly, this provides essentially no happy outcome for parents who do not view deportation as an option, and want to fight for American citizenship. After all, many of the families who have been separated are immigrants seeking asylum from countries where they no longer feel safe.
Right now, these parents have to choose between accepting immediate deportation, or choosing to fight for citizenship and stay separated from their children for an indefinite amount of time. If you think this is unacceptable, there are tons of amazing organizations currently fighting to reunite these families once and for all: