Can't Look Away From The Theranos Scandal? 5 Shocking Stories From 'Bad Blood'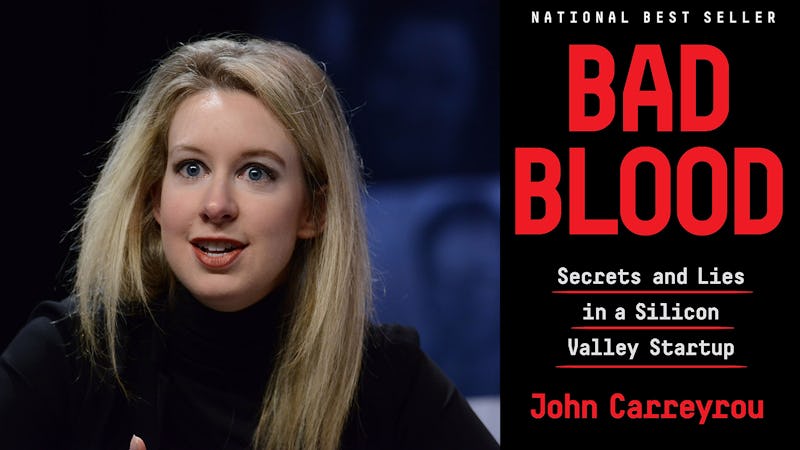 Lisa Lake/Getty Images Entertainment/Getty Images; Knopf
On Monday, March 18, the Theranos documentary The Inventor: Out for Blood in Silicon Valley premieres on HBO. It promises to explore the rise and fall of Theranos, a biotech startup that promised to revolutionize the healthcare industry with a new kind of blood testing machine. Instead, the company defrauded investors of hundreds of millions of dollars, and put many other people's health at risk. Pulitzer Prize-winning journalist John Carreyrou followed the story of corporate fraud for years, and chronicled each mind-blowing moment in Bad Blood: Secrets and Lies in a Silicon Valley Startup, his bestselling book about Theranos company and its enigmatic founder and CEO, Elizabeth Holmes.
The Elizabeth Holmes story sounds like something out of a Silicon Valley fairy tale: At 19 years old, she dropped out of Stanford University and began raising money for a device that would make blood testing faster, easier, and more accessible. With the help of big-name investors, including venture capitalist Tim Draper, entrepreneur and Oracle co-founder Larry Ellison, media mogul Rupert Murdoch, Mexican business magnate Carlos Slim, and members of the WalMart's Walton family, she was able to raise the value of Theranos to over $9 billion, and increase her own worth to an estimated $4.7 billion. But there was one catch: the technology she promised her investors — the machine she put out into the world with the promise it could improve lives and innovate healthcare — did not work, and Holmes knew it.
"A sociopath is often described as someone with little or no conscience," writes Carreyrou in Bad Blood. "I'll leave it to the psychologists to decide whether Holmes fits the clinical profile, but there's no question that her moral compass was badly askew. I'm fairly certain she didn't initially set out to defraud investors and put patients in harm's way when she dropped out of Stanford fifteen years ago [...] But in her all-consuming quest to be the second coming of Steve Jobs amid the gold rush of the "unicorn" boom, there came a point when she stopped listening to sound advice and began to cut corners."
Carreyrou followed the story of Theranos from the very beginning, chronicling its almost mythological rise to its calamitous fall, and all the chaos and confusion in between. In writing Bad Blood, Carreyrou interviewed over 150 people, more than 60 of them former employees of the company. The stories Carreyrou he recounts in his book may sound outrageous or even impossible, but you know what they say: The truth is stranger than fiction.
Here are 5 of the most bonkers moments from the very true, very bizarre Bad Blood.