5 Multitasking Products For Summer Wedding Season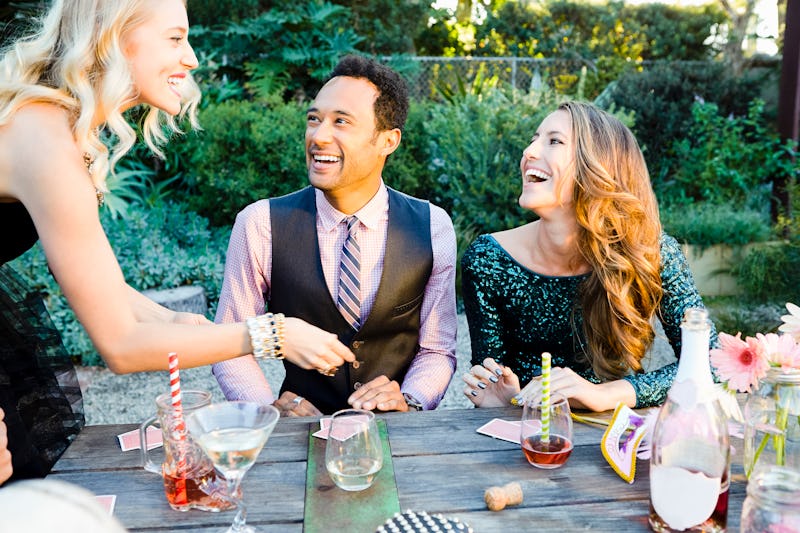 Offset/The Good Brigade
Alright, people! It's time to start carefully budgeting your paid vacation days, saving your pennies, and putting on your happiest game face no matter how you actually feel about everlasting love — because it's officially summer wedding season. While the responsibilities of being a guest can be extensive and, ahem, expensive, there are definitely also perks. The food! The dance floor! The fact that it's someone else's relatives all gathered together at the same time! Plus, it's the perfect opportunity to actually get dressed up and capture plenty of pics in your outfit and wedding-day look.
Unfortunately, being at a summer weddings doesn't make you immune to the inevitable drawbacks of warm-weather activities, like sweat, sunburn, and frizz. That's why we've rounded up the best, most versatile (and totally affordable) beauty products from Walmart that will keep your hair tame, your skin sweat-free, and your face from turning lobster red all through summer wedding season.
We all know we should never go to bed with makeup on, yet it still happens (and, OK, it's definitely more likely to happen after a night of drinks and dancing). Keep it simple with this micellar water, which gently removes an entire face of foundation, lipstick, you name it. It also works double duty as an amazing touch-up solution while you're getting ready. You can experiment with those bold ideas you've been wanting to try without worrying about photo evidence if things go sour.
This facial mist — infused with coconut water, hyaluronic acid, and argan oil — can work wonders both as a setting spray to lock your makeup in place and as a cooling mist whenever you need a mid-celebration glow-up. Keep a bottle stashed in your purse at all times for a quick refresher that won't interrupt the big day.
If there's one thing you don't want to forget to wear to an outdoor wedding, it's sunscreen. This lotion won't just protect your skin from powerful rays. It'll also give you plenty of nourishing moisture and a festive sun-kissed sparkle from head to toe.
It's a toss-up whether you'll have dry eyes after a touching ceremony, but with this hyaluronic-acid-packed serum, it's a guarantee you won't have dry skin. As a bonus, it also acts as a hydrating primer to keep your wedding makeup looking fresh.
Heading to a rustic daytime wedding this season? Also have a formal evening soiree lined up? No matter the dress code, you can create the perfect makeup look with this shadow palette. It includes everything from dramatic dark shades for all-night dancing to warm neutral tones for a romantic brunch.
This post is sponsored by Walmart.