5 Myths About Bisexuality That Contribute To Bi Erasure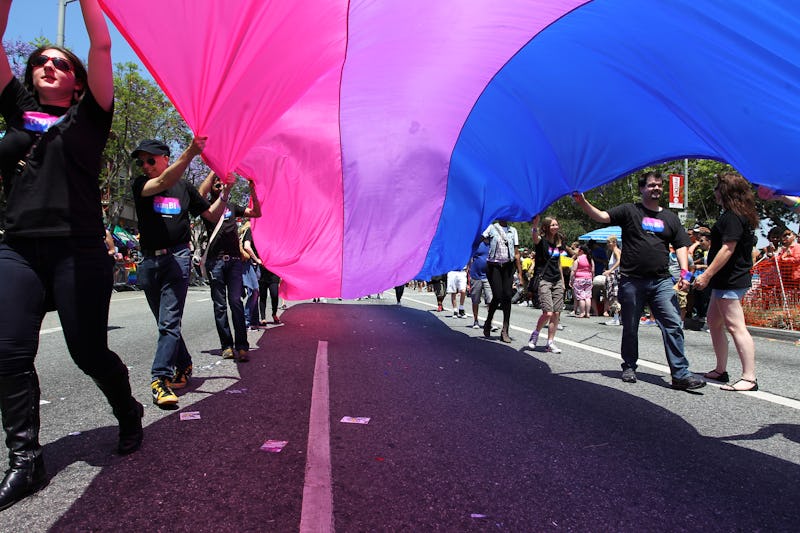 David McNew/Getty Images News/Getty Images
Through September 23, many people are celebrating Bisexual Awareness Week, which we still need because sadly, not enough people are truly aware of what it means to be bisexual. While bi people make up 52 percent of the LGBTQ community, they are sometimes excluded from the narrative at Pride festivals and LGBTQ celebrations because of biphobia and bi erasure. Bi erasure is a serious problem that isn't just promoted by straight people, but on occasion, by the non-bi queer community as well. Identifying as bisexual often feels like you're stuck in limbo — not "gay" enough for some, and not "straight" enough for others.
Many people believe the common misconception that bisexual is defined as being attracted to both men and women, and that when someone identifies as bi, they can't be attracted to non-binary folks. Bisexual people have tried to educate others about this issue in recent years. Modern day bi advocate and author Robyn Ochs defines bisexuality as "the potential to be attracted — romantically and/or sexually — to people of more than one sex and/or gender," a definition created to include those who fall anywhere on the gender spectrum.
Another way the bisexual community has worked to combat misconceptions about bi people is by creating the umbrella terms bisexuality+ and bi+ to include a myriad of other sexual identities beyond LG. Some terms included under the bi+ label are pansexual, queer, and fluid. Bi+ can also include people who prefer no label, but fall anywhere in the wide spectrum between heterosexual and gay. But unfortunately, despite efforts from the bisexual community, there are still many assumptions made about who we are, and what our sexuality means. These are five common myths that contribute to bi erasure, and the stats that prove just how wrong they are.