The 5 New Books You Need To Read Before This Weekend's Women's March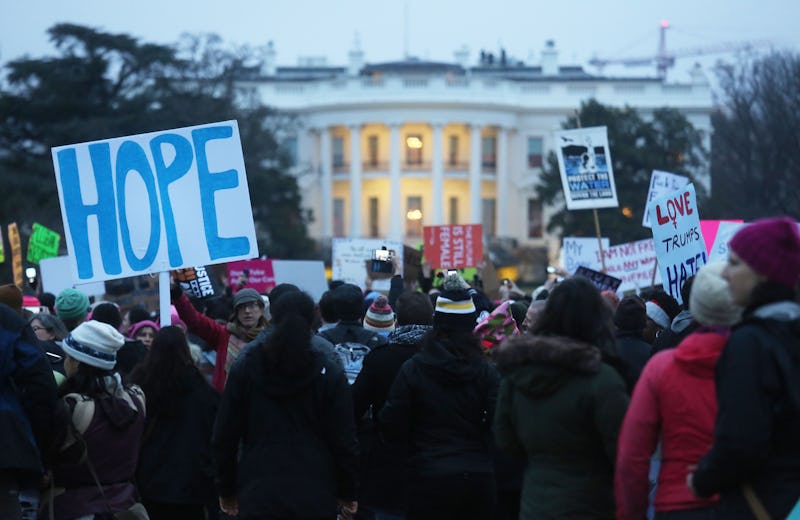 Mario Tama/Getty Images News/Getty Images
On Jan. 21, 2017, millions of women made history when they took to the streets the morning after Donald Trump's inauguration to participate in the largest single-day protest in American history. This year, the organizers behind that momentous day, and the 365 days of resistance that followed, are honoring the occasion in a big way with Power to the Polls anniversary events around the country. If you're joining the resistance, you're going to want to read these books in preparation for the 2018 Women's March and another year of rallies, protests, campaigning, and voting.
Last year, the 2017 Women's March created a powerful wave of new activists, leaders, and, most importantly, voters that have since flooded the American political scene. The Power to the Polls anniversary event in Las Vegas this weekend, and the over 250 sister marches around the world, are intended to set the movement's agenda for 2018, which will largely revolve around getting out the vote. According to organizers, the main goal is to turn "the energy and activism of the Women's March into tangible strategies and concrete wins in 2018."
To do that, though, each resistor must first get a firm grasp on the issues at hand, the state of modern American politics, and the process in which real change is brought to Washington, D.C. To do that, each resistor is going to have to do some serious reading.
Break out your protest sign, make sure your voter registration is up-to-date, and check out these five essential books that will help prepare you for the 2018 Women's March and this year's midterm elections. From policy explainers to revolution how-tos, this list has a little taste of everything you need to know before you hit the protest (and the polls) this year.