5 Non-Toxic Fake Tan Formulas To Help You Get That Glow Without The Nasty Chemicals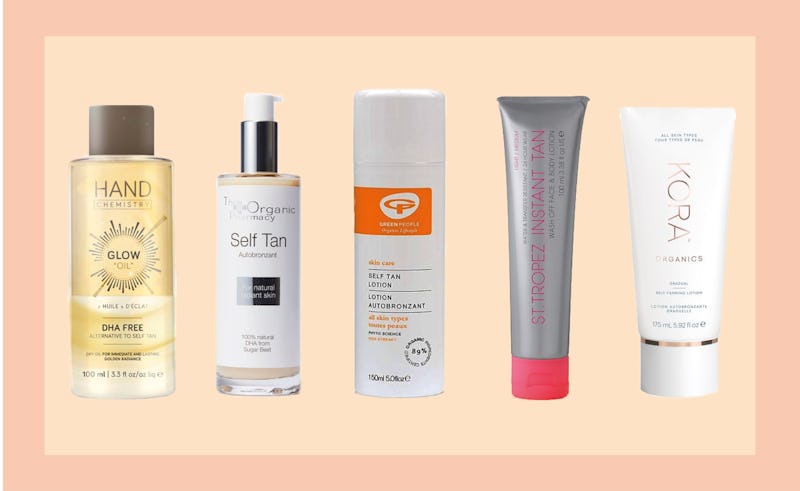 Clean beauty hit the main stream in 2018 and continued to grow at a fast pace. From organic and vegan skincare to "free-from" hair options and makeup, if you want to be kinder to your skin, body, and hair (as well as the planet), there are a seemingly limitless number of possibilities to buy into. While makeup, skincare, and hair products are most talked about, I wanted to focus on the best natural and non-toxic fake tans out there on the market.
The problem is that finding a self tan that ticks all the boxes (organic, vegan, and free from parabens and everything else) is actually a little tricky. This is because most formulas contain something called dihydroxyacetone (DHA). DHA is a sugar-derived chemical that works by reacting to amino acids in our skin to create a tanned effect.
While DHA is allowed in cosmetics, there have been studies that have shown it can be harmful when inhaled during things like spray tans. Studies reported by ABC News raised questions over how safe DHA is and asked whether we should be using it in our tanning products. The main concern is that if DHA is inhaled, it can be damaging to our lungs. However, further research into the matter definitely needs to be done, and products featuring DHA remain safe and available to buy.
With this in mind, I've provided five of the best natural fake tans, two of which are DHA-free, and three which are natural and "clean" in their make up. From brands such as Kora Organics, The Organic Pharmacy, and St Tropez, here is the edit of the best non-toxic fake tans.