According To Vets, These Are The Safest Toys To Buy For Your New Kitten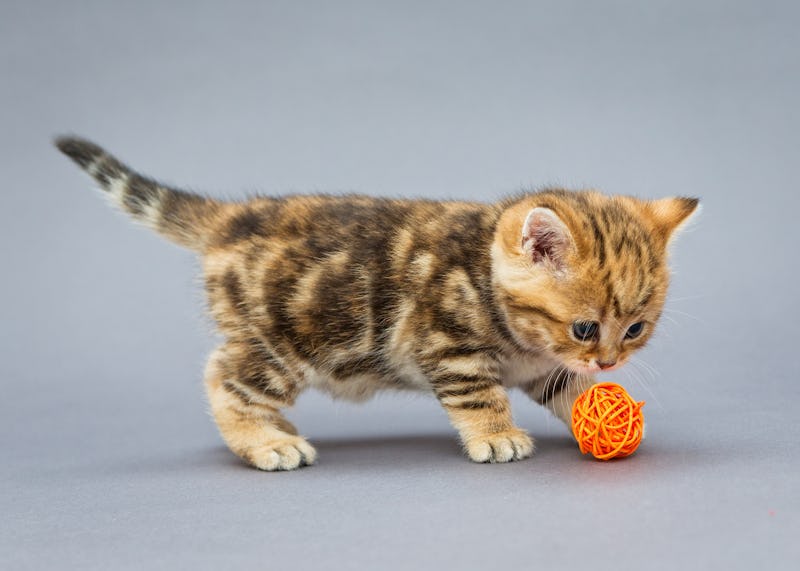 fotolia/Okssi
What makes a toy unsafe for kittens? The number one thing you'll want to avoid when choosing a toy for your new kitten is anything easy for them to swallow. That means popular toys for cats that are small and narrow (like dental floss or rubber bands) should be avoided. If you're shopping for safe toys for kittens, experts have a few tips.
"Toys are not an option for kittens, they are absolutely essential," says Dr. Jennifer Coates, DVM. "Look for ones that allow kittens to express their natural hunting behaviors — stalking, pouncing, 'killing,' and eating." According to Coates, toys that involve string or are smaller than an inch can be dangerous for young cats, especially if the kittens are left unattended, since the toys can be easily chewed up and swallowed.
Look for larger toys as you shop, like a tall cardboard scratcher they can claw at, or a wand that can mimic the effect of smaller toys like tiny tinsel balls or feather toys in a safer way. And, if your kitten prefers small toys that they can bat around and chase, just ensure you're buying ones that are large enough not to be a choking or swallowing hazard (i.e., toys larger than 1 inch).
Here are some safe toys for kittens, as recommended by experts.