The 2018 US Open Wasn't The First Time Serena Williams & Tennis Officials Have Clashed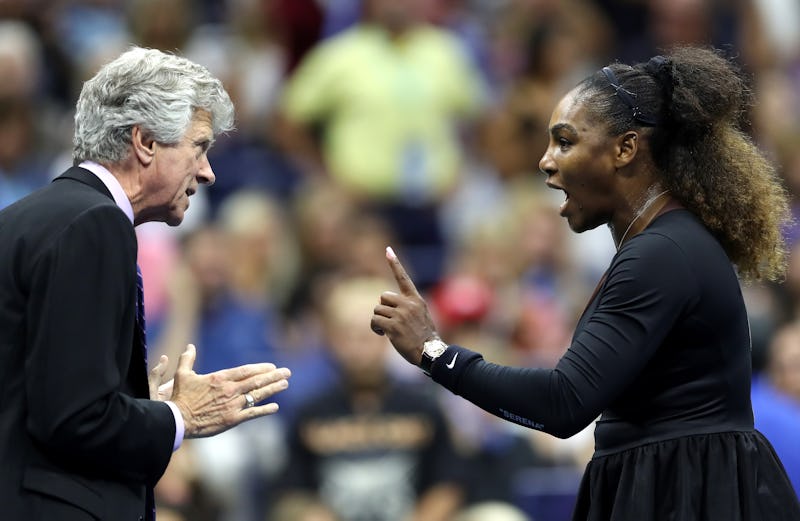 Elsa/Getty Images Sport/Getty Images
Serena Williams' heated exchange with a chair umpire at the 2018 U.S. Open on Saturday certainly isn't the first time the 23-time Grand Slam champion has clashed with an official. In fact, there's a pattern in Williams' career of exchanges with officials over calls and judgements as this timeline of Williams' controversies with tennis officials shows.
"This is not fair," The Washington Post reported Williams said at one point while disputing the three code violations that umpire Carlos Ramos issued her during her finals match against Naomi Osaka on Saturday. "This has happened to me too many times."
Williams later told a reporter she'd been thinking of some of her past run-ins with match officials as she had words with Ramos on the court Saturday. "I think it's just instantly, just like, 'Oh, gosh, I don't want to go back to 2004,'" The Washington Post reported she said, referencing a notoriously bad call she'd been subjected to at the 2004 U.S. Open.
"Forget 2009, you know," she added, referencing a point penalty she'd garnered at that year's U.S. Open after an exchange with a line judge. "It started way back then. So it's always something."
Williams is a highly passionate player known for letting emotion fuel her performance, which has led to many tense and exhilarating moments. She has changed the sport with her dominance, but in doing so she's had to confront countless instances of sexism and racism, both explicit and implicit. Here are five times things got tense between Williams and umpires and judges, or she was unfairly booed by a crowd.