5 Surprising Ways Your Period Cycle Can Affect Your Workout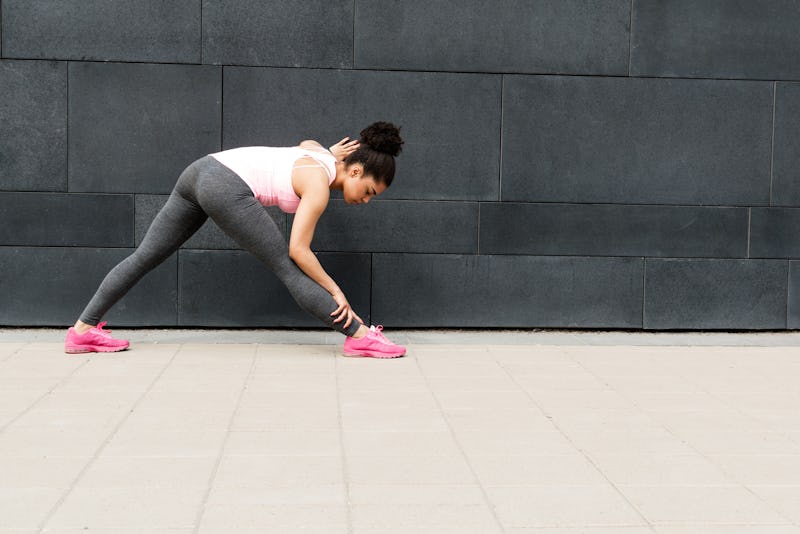 Artem Varnitsin/Fotolia
Working out is good for the body and for your mental health, but for people who get periods, their menstrual cycle can potentially throw a wrench into their cardio-yoga regimen. Hormonal fluctuations and their effects on the human body are still being understood, but it's now widely agreed among scientists that the phase of your period can affect your workout, from how you can most effectively train to how your body will recover.
"Scientific studies are exploring how fluctuations of hormones across the menstrual cycle can lead to different outcomes in training," Caroline Hardy, a senior designer at the period tracking app Clue, tells Bustle. And the conclusions are more complex than you might think.
The particular menstrual phase you're in in your cycle can help determine what kind of exercise is appropriate for your body; for instance, during your bleed itself, it's recommended by experts that high-intensity interval training, or HIIT, is your best bet for good results. But the information we have goes far beyond exercise type, into energy levels, injury risk and even how flexible you might be. Menstrual cycles affect many different parts of body function, including its temperature and metabolism, so it's not really surprising that your workout at the gym is going to alter depending on where your ovaries are at. Here are five unexpected ways your period can impact your workout.