53 Small Things To Fight Trump-Induced Stress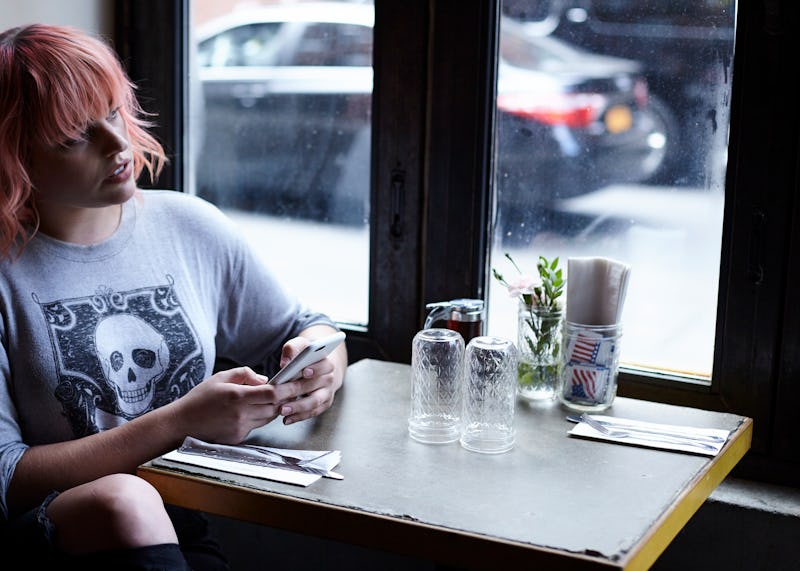 Donald Trump's presidency is only five weeks old, and it's already felt like the most stressful time of many people's lives. Millions of millennials fall into the various demographics Trump has promised to discriminate against, and it's easy to feel overwhelmed by the fear and uncertainty of your future. But it is possible to ease that tension with some simple self-care tips, or resistance actions if you feel sure you can handle it. Here are 53 small ways to cope with the Trump administration, whether you need to constructively channel your anger or peacefully manage your anxiety.
If you're feeling really overwhelmed, the best way to relieve the anxiety is by focusing on small, unrelated tasks. Little things that make you exert control over your environment are a great way to center yourself again. Getting some mental distance from your troubles isn't inherently bad, but it does need to be followed up by some introspection later. You need to figure out exactly why you're having trouble coping so that you can more effectively manage the stress in the future.
It's always OK to take a break if you need one, but it's also important to continue making process in how you react to stressful situations. If you're up to it, there are a few action items on this list to practice turning your stress into a productive change. Mostly, however, these are things you can do to grant yourself the privilege of ignoring politics for a few moments, in order to recharge your spirit and energy so you can get back to fighting Trump as soon as possible.
Donate $5 to your favorite cause.
Find a kid to hang out with, whether it's a family member or volunteering.
Go get some nature.
Read a (non-political) book.
Repeat this mantra: "I am fulfilled. I am fearless."
Cry if you need to, or it releases some of your tension. It's perfectly OK.
Tweet at your senator or congressional representative about how you're feeling.
Change your sheets (it helps, I promise).
Call a family member, even if you don't share political views.
Start an online learning program like Duolingo or Code Academy.
Explore a new local business in your area.
Make or update your bucket list.
Hydrate and/or moisturize.
Watch this old clip of Donald Trump singing "Green Acres".
Message an old friend you haven't spoken to in a while.
Start planning your next vacation.
Visit to a nearby animal shelter.
Journal your emotions.
Prep some meals for the rest of the week.
Make a meal for a family in need.
Buy something off your Amazon wishlist.
Send a message of support to an LGBTQ+ family member or friend.
Listen to a new podcast (Sword & Scale or The Moth are two great options).
Watch an old episode of your favorite sitcom.
Make a short list of goals for the rest of your day.
Drink some green tea.
Remember that you are only one person, and you are not responsible for fixing the world's problems.
Go for a swim, if possible.
Watch the Netflix documentary Precious Puppies.
Get a massage (there are often deals on Groupon).
Light a scented candle or some incense for aromatherapy.
Go to a town or neighborhood nearby you've never been to.
Have a 30 second, or 30 minute, dance party.
Take your vitamins.
Buy some fresh flowers.
Clean out your inbox.
Get an adult coloring book.
Do a puzzle.
Go use up all your old Bed Bath & Beyond coupons.
Look at some old family photos.
Rewatch your favorite Disney movie.
Sing to yourself.
Show a stranger a random act of kindness.
Take a hot bath or shower.
Take a melatonin and go to sleep early.
Confide in a friend or significant other, without reservations.
Make the decision to end your day on a high note (I know that's usually easier said than done, but you do have the power to relieve at least some of your own stress).
Trump's administration is harmful and scary, but you can still mentally and emotionally protect yourself in many ways. You can't control everything, but you can control yourself, so don't let the stress control you.