Feminist WHCD Moments From History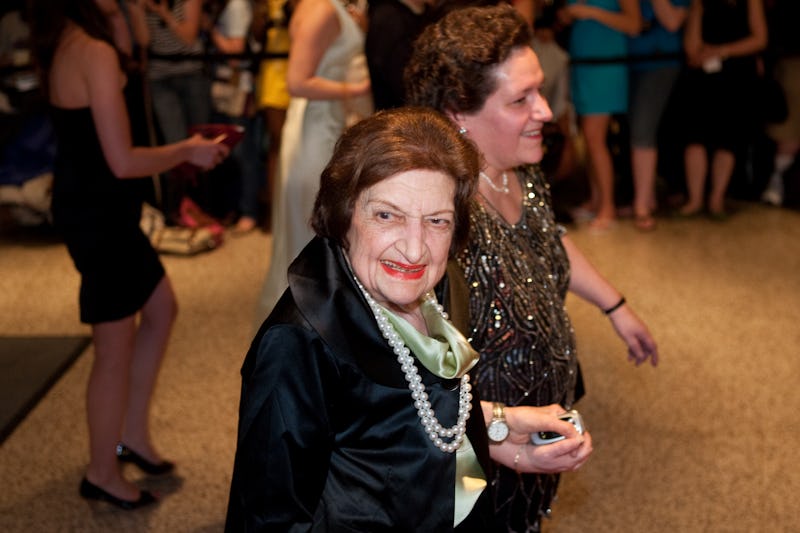 Brendan Hoffman/Getty Images Entertainment/Getty Images
While the annual White House Correspondents' Dinner has been around since 1921, women weren't invited until 1962. Since then, top feminist moments in the White House Correspondents' Dinner's history include everything from journalist Helen Thomas pressuring President John F. Kennedy to boycott the dinner in 1962 if women were not included to superstar Barbra Streisand advocating for the LGBTQ community in the military in 1993.
The annual WHCD, colloquially referred to as the "nerd prom," started in 1921 when 50 men met at the Arlington Hotel in Washington, D.C., according to the Boston Globe. Every president since has appeared at least once dinner since 1924. NPR reports that President Donald Trump will be the first president in 36 years to skip the WHCD, which is no surprise given his adversarial relationship with the press to date. Before Trump, the last president to skip the dinner was Ronald Reagan, but we can let that slide since he was recovering from a gunshot wound.
The dinner is an event for press covering the White House who push for access to the president and members of the administration; History.com reports that the White House Correspondents' Association marked the 100th anniversary of its founding in 2014.
Just like everything else in life, women have had to elbow their way in for a seat at the table, and the WHCD has only been hosted by five women. Yep, you read that right, but that doesn't mean women haven't made an impact. Here are the top feminist moments in the history of the WHCD; I'm sure a few will be added to the list in 2017 after the April 29 event.
Often referred to as the first lady of the press, journalist Helen Thomas was the first woman reporter to attend a WHC dinner in 1962 when she pressured JKF to boycott the dinner if women journalists were not included. According to Biography.com, Thomas, who died in 2013, covered 10 presidents over five decades. She was the United Press International's first female White House bureau chief, and the first female member of Washington's historic press group, the Gridiron Club.
Comic Paula Poundstone became the first woman to host the White House Correspondents' Dinner in 1992, though she told Elle that she really didn't think about "the whole gender thing." It was her opposition to then President George W. Bush's politics that almost kept her from accepting the invitation, though she eventually decided to go.
"It occurred to me that A. When in my life would I get another message that the White House was calling? And B. When would I ever be invited by any president to go anywhere?" she said in an interview with Elle.
Poundstone added that gender did come into play when, the next morning, her choice of a white tuxedo was the topic of news reports. "I think that might have been the one time that I ever thought about the fact that I was a woman. Because would they have done that for any other performer? Did anybody talk about what [Don] Imus wore?" she told Elle. "Or what Jim Morris wore the year before me? I just remember being struck by how much ink they wasted describing my outfit. Who gives a sh*t? Honestly, it's not like I was naked. By the way, it was a fabulous tuxedo."
And, let me tell you — as I am searching for WHCD feminist heroes the number one thing that comes up is what women were wearing. Can we stop focusing on the outfits, please? It's not a topic of conversation for the men who attend, so it's high time it stopped being one for the people of all other genders who attend, too.
In 2009 Comic Wanda Sykes was the first black woman and the first openly gay woman to host the WHCD, and she was criticized for some of her cutting remarks. Perhaps if we had all taken Sykes a little more seriously back then we wouldn't be in the situation we're in today. According to the Huffington Post, Sykes took former President George W. Bush, John McCain, Dick Cheney, Sarah Palin, Rush Limbaugh, and Sean Hannity to task, though not everyone thought she was funny. Many of Sykes bits were uncomfortable, and some said she went too far. However, Sykes also did what she does best, calls it like she sees it, and she didn't amend her opinion or pander to the audience. That takes a lot of courage.
Ahead of the annual WHCD the Washington Women in Journalism Awards, which began four years ago, presented awards to political commentator Cokie Roberts for Distinguished Female Journalist of the Year; CNN contributor Mary Katharine Ham for the Rising Star award; NPR News national security correspondent Mary Louise Kelly for broadcasting; and New Yorker staff writer Jane Mayer for print journalism April 27 during a private event, according to the website Washington, D.C. 100. The addition of the Washington Women in Journalism Awards to the list of events is long over due, and it's a great way to celebrate women in journalism. Congrats to all the recipients!
Everyone's favorite princess, actor, author, and mental health activist Carrie Fisher brought her therapy dog, Gary, as her date (along with Tom Hiddleston) in 2016. Fisher has been lauded for helping to destigmatize mental illness, especially for women. She has openly talked, and written about, her personal struggles with bipolar disorder. By bringing Gary as her date, Fisher (who died in December) helped advance the conversation even further. Fisher had no shame in her game, and she has inspired others to be more open about their own struggles.
With a WHCD boycott in full force this year from many media outlets, Full Fontal host Samantha Bee is throwing her own party, and everyone is invited. According to Vox, Bee's party, Not The White House Correspondents' Dinner, answers the question, "What if Washington D.C.'s annual nerd prom were hosted by a lady nerd and had way more curse words?"
If you can't make it to DAR Constitution Hall where the show is taping, you can catch Bee's line up, which includes Keegan-Michael Key, Gloria Steinem, Padma Lakshmi, and Veep actor Matt Walsh, on TBS, or you can live-stream it on Twitter.