6 Kardashian Family Feuds You Totally Forgot About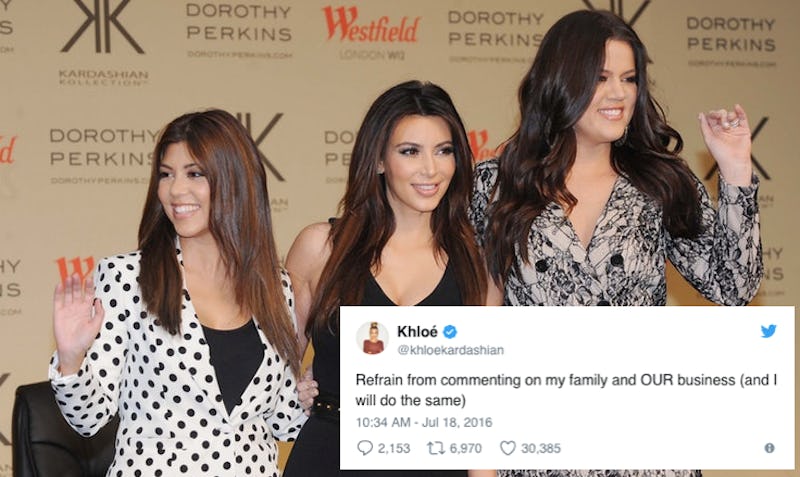 Getty Images/Bustle
The Kardashian family can't help but get themselves mixed up in drama sometimes. On their show, Keeping Up with the Kardashians, the plot lines are often about pets or babies or Kris Jenner hiring a scribe, but sometimes you can get a glimpse into some Kardashian family feuds. And with this crew it could be a feud with another celeb or even a fight amongst family members.
Everyone knows about some of the more classic feuds within the Kardashian/Jenner family. Who could ever forget the drama between Kim Kardashian/Kanye West and Taylor Swift. Or that Kylie Jenner had some beef with Blac Chyna (before she dated Rob Kardashian... and apparently also after Chyna and Rob broke up)? And, currently, Kris Jenner and Caitlyn Jenner are kind of feuding after Caitlyn published her book The Secrets of My Life, which chronicled some of the couples' marital woes.
But there are just as many Kardashian/Jenner feuds that have been forgotten by the masses, either because they were eventually resolved or because the feuds were just a brief blip on the pop culture radar. Regardless, these disagreements were still dramatic. Here's a list of six of the craziest Kardashian feuds that you may have forgotten about.
1. Kim Kardashian vs. Bette Midler
How weird was it that reality superstar Kim Kardashian was feuding with Broadway legend Bette Midler in March 2016? This feud started when Kim posted a naked selfie. Midler tried to make a joke and said that Kim would have to "swallow the camera" if she wanted fans to "see a part of her we've never seen". It was pretty rude and seemingly wasn't prompted by anything Kim did to her personally. The reality star hit back at Midler with, "I really didn't want to bring up how you sent me a gift awhile back to be a fake friend then come at me #dejavu". There wasn't a clear resolve for this feud, as the two continued to trade insults over social media, with the likes of P!nk, Miley Cyrus, Amber Rose, Chloë Grace Moretz, and Kylie Jenner all getting involved with the issue.
2. Khloé Kardashian vs. Chloë Grace Moretz
This feud, which was an offshoot of the Kimye vs. Taylor Swift debacle, got pretty nasty. In July 2016, Chloë Grace Moretz commented on Kim after the reality star posted Snapchats of Swift seemingly agreeing to be mentioned on West's song "Famous". (This was also months after Moretz chimed in on Kim posting her nude selfie and received quite the response from the reality star.)
Moretz tweeted: "Everyone in this industry needs to get their heads out of a hole and look around to realize what's ACTUALLY happening in the REAL world." And in response, Khloé tweeted an image of a woman with her bikini bottom pushed to the side, exposing her butt. She tweeted the since-deleted image intending for it to be Moretz, but it was actually someone who looked like her.
The young actor replied, "Fact check: first photo is me filming my movie Neighbors 2, the second photo is some girl who was wrongfully photographed."
In response, Khloé tweeted:
3. Kendall Jenner vs. Tallia Storm
It's not like Kendall Jenner to get into tiffs with other celebs. However, the model did find herself in the middle of a feud with singer Tallia Storm in August 2016. The singer said that Kendall tried to get her "thrown out the VIP area @NextRadioApp party!"
This feud kind of came out of nowhere. And just as quickly as it started, it was over. Kendall posted an Instagram of a screenshot from Mean Girls, seemingly in response to Storm's allegation since it was posted the same day that the singer tweeted about the supposed experience.
Kendall captioned her photo "pretty much" and it pretty much says it all.
4. Kim Kardashian vs. Rob Kardashian
Rob Kardashian may have deleted his Instagram post from March 2015 in which he called Kim "the b*tch from Gone Girl", but the internet never forgets. These siblings have found themselves fighting each other on more than one occasion (as siblings do). This outburst from Rob was particularly mean-spirited though. According to Kim, her brother posted the photo because she "got mad at him and he posted that to get me back." Based on her tweet, she didn't seem take the photo to heart.
5. Kendall Jenner & Kylie Jenner vs. Selena Gomez
Once upon a time in Hollywood, Kendall and Kylie Jenner were besties with Selena Gomez, as one of their Coachella outings (pictured above) shows. But after the Disney darling reportedly unfollowed the reality stars, there was speculation as to what might have be the cause.
According to the Huffington Post, in early 2014, Gomez was not following the Jenners (although, it was unconfirmed whether she followed them originally). She also deleted photos that she posted with the two specifically, even though her account was still active at the time. What could have caused this turn of events? It was rumored that it had a little something to do with Justin Bieber.
There were rumors that Kylie and Kendall both had dalliances with Gomez's ex. Rumors linked Kylie and the "Sorry" singer together in 2014, and in 2015, Kendall and Bieber were said to be hooking up, which left Gomez feeling "betrayed", according to Hollywood Life.
Although, it's way more probable that neither rumor was true. The Jenners' sister Khloé confirmed on a January 2016 episode of Watch What Happens Live that none of her sisters had ever hooked up with Bieber. It's possible that Gomez herself got caught up in some of these rumors, which could have led her to delete photos with the Jenners, or maybe it was something else altogether. Either way, there doesn't seem to be any bad blood between her and the two sisters currently. The singer considered Kendall to be one of her friends in a 2016 interview with Capital FM radio (and even let it slip that her model friend was dating someone).
6. Kylie Jenner vs. Amandla Stenberg
This feud started when Kylie posted a photo of herself sporting cornrows in the Instagram selfie above. One person who wasn't into the photo? Actor Amandla Stenberg. According to Us Weekly, she commented on the youngest Jenner's photo with, "@novemberskyys when u appropriate black features and culture but fail to use ur position of power to help black Americans by directing attention towards ur wigs instead of police brutality or racism #whitegirlsdoitbetter".
Kylie responded, "@amandlastenberg Mad if I don't, Mad if I do…. Go hang w Jaden or something" because Stenberg had gone to prom with Kylie's friend, Jaden Smith.
Neither of the two continued the feud after that.
These feuds may not be as on the same level as the Taylor Swift vs. Kim Kardashian feud, for instance, but, all of these show that the family has had plenty of run-ins, amongst themselves and with other celebs, over the years