6 Petitions You Can Sign To Stand Up For Migrant Children At The Border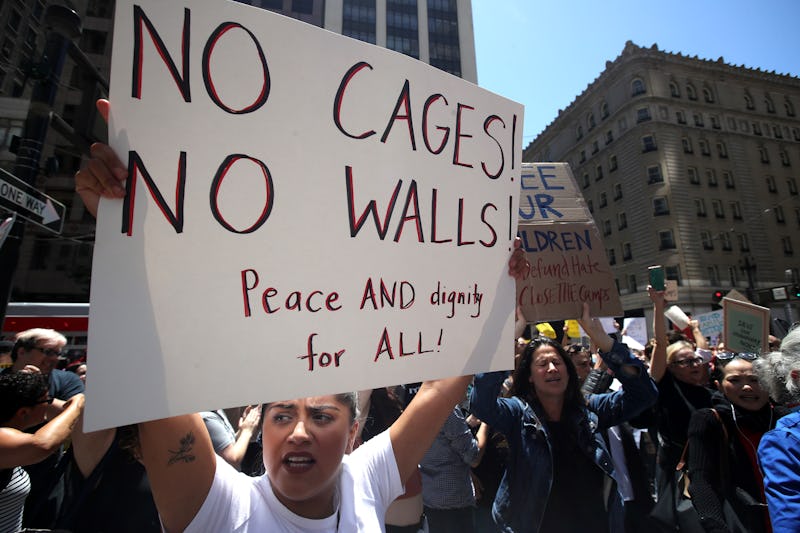 Justin Sullivan/Getty Images News/Getty Images
Over the past several weeks, there has been a flurry of reports about the conditions migrant children being held at the southern U.S. border face. If you feel outraged by these reports and want to help, no matter where you live, one of the many ways you can be an advocate involves signing petitions to protect those migrant children. The petitions' specific goals differ slightly, but ultimately, they share the same mission.
A July 2 report released by investigators at the Department of Homeland Security said that adults and children at border detention facilities faced conditions that could pose an "immediate risk to their health and safety." The report noted that there was "dangerous overcrowding" at these centers and that migrants, including many children, were being held by Customs and Border Protection (CBP) for far longer than the 72 hours allowed by law.
Moreover, a group of lawyers who visited a Clint, Texas detention center in late June reported that children being held there had limited access to soap, clean clothes, and food, the New York Times indicated. Elora Mukherjee, one of the lawyers who went to the Clint center, described the dire conditions she witnessed to CBS News. "It is degrading and inhumane and shouldn't be happening in America," Mukherjee told the outlet. "The children had not had access to a single shower or bath, they were wearing the same dirty clothing they crossed the border with."
However, Acting Homeland Security Secretary Kevin McAleenan has claimed that the reports about poor conditions aren't totally accurate. "There's adequate food and water … because I know what our standards are, and I know they're being followed," McAleenan said on ABC's The Week on July 7. " ... "Inadequate food, inadequate water and unclean cells. None of those have been substantiated."
Notably, hundreds of children were moved out of the Clint detention center the week of June 24, shortly after reports about the center's conditions came out, the New York Times noted.
Overall, if you want to take a stand and help advocate for children being detained at the U.S. border, signing these petitions are a strong starting point.