6 Signs You Didn't Enter A Deep Sleep Overnight, Even If You Slept 8 Hours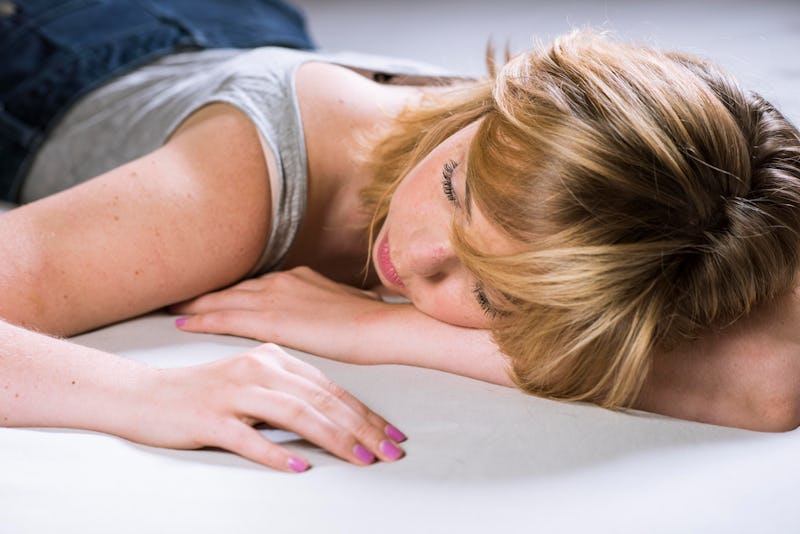 BDG Media, Inc.
Sleep is self care. We cut out a number of hours a night to nurture this wellness routine because it's essential to our health. But there are so many factors that can keep us from achieving deep sleep. Thankfully there are signs you're not getting deep sleep (even if you slept eight hours). Identifying them could help you finally get the rest you need.
Spoiler alert: you probably shouldn't sleep with your phone. The blue light your electronics radiate are notorious for disturbing your sleep cycle. Dr. Michael J. Breus, PhD, known as The Sleep Doctor, relates seven other factors that could be keeping you from entering the stages of deeper sleep. Dr. Breus tells Bustle, "Alcohol, while it may make a person feel sleepy, it actually keeps them out of the deeper stages of sleep." Other reasons you might not be getting deep sleep according to Dr. Breus include caffeine, heat, disruptions by a bed partner, recreational drugs, medications, or a sleep disorder.
What you're hoping to reach is level three or four of sleep. "Stages three and four of sleep, also known as deep sleep or delta sleep account for 20 percent of total sleep time in young adults," Dr. Breus says. "Delta sleep is the deepest level of NREM sleep and usually occurs during the first third of the night." And when you don't get it, you likely won't feel great. Here's how to tell if you're not entering this deep sleep, according to experts.