6 Surprising Uses For Witch Hazel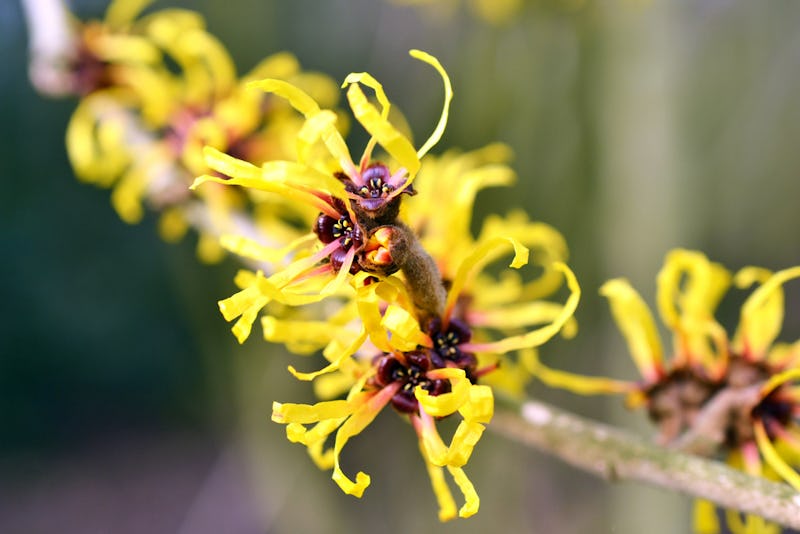 Bildagentur Zoonar GmbH/Shutterstock
You may have heard about witch hazel as a cheap and easy solution for many skin issues. But if you have never used the natural astringent before, you may not know how to utilize it. There are a number of surprising uses for witch hazel, including treating acne, and reducing redness and inflammation. If you're not putting to use this versatile ingredient, you may be missing out.
Although the name may make it seem like it was concocted in a cauldron, witch hazel is actually naturally derived from a shrub known as Hamamelis virginiana. The leaf, bark, and twigs are used to make medicine, according to WebMD. Witch hazel contains chemicals called tannins, which when applied directly to the skin, can help reduce swelling, repair broken skin, and fight bacteria.
"The tannins in witch have shown in scientific studies to have antimicrobial, antiviral, anti-inflammatory and antioxidant properties," dermatologist Dr. Richard Torbeck with Advanced Dermatology PC, tells Bustle. "The trend in medicine is to provide products that are closer to nature. You would be hard pressed to find a more natural product than witch hazel. There are other products created from witch hazel such as, witch hazel water, gels, and lotions, but the main active ingredient for the resultant effect are the tannins."
If you want to put this natural ingredient to use, consider these six surprising ways you can use witch hazel, according to experts.