6 Things Women Couldn't Do In 1920 That They Still Can't Do Today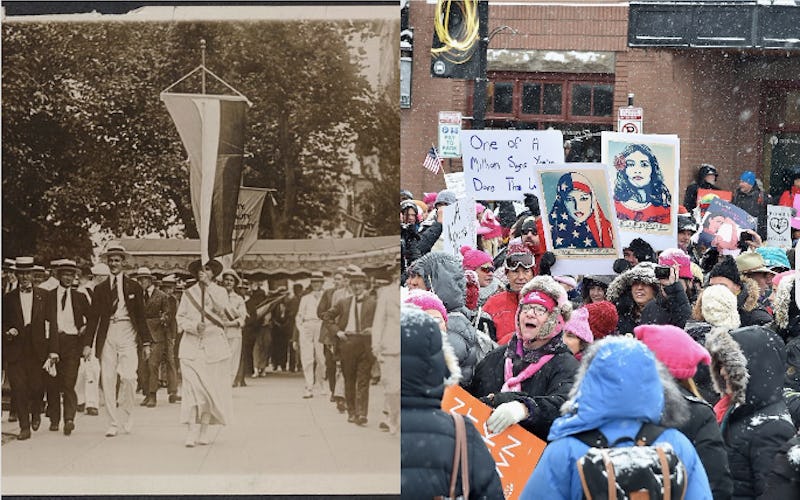 Alberto E. Rodriguez/Staff/Getty; Library of Congress
Americans like to think they've come a long way on gender equality. It's 2017 -- women can legally vote, sign up for credit cards, and terminate a pregnancy, although the latter has come under fire lately. What more could we want? As it turns out, the answer is "quite a bit." All too many things women couldn't do in 1920, the year the 19th Amendment was ratified by Congress, remain barred to them even in 2017.
Friday, Aug. 18, marks 97 years since women were granted the right to vote across the United States, rather than in a handful of states. Technically, the right was extended to all American women, but the reality was rather different. Native Americans were unable to vote until several years later, and women of color were forced to navigate a labyrinth of laws designed to prevent them from voting for decades afterward. As a result, the first female voters were primarily white, well-to-do women.
But voting isn't the only right for which women have fought (and continue to fight). Historically, married women have been forced to adopt their husbands' identities, from citizenship to finances. (Single women, meanwhile, were left under the "care" of male family members.) It wasn't until 1998 that the Food and Drug Administration approved the morning-after pill, and credit card companies required a husband's signature as recently as the 1970s.
The right to vote is obviously worth celebrating, so throw all the suffrage-themed parties you want this August. But while you're at it, remember that even today, women are still disenfranchised.