6 Tips For Mastering Off-Duty Style, From Broadway Actress And Dancer Emma Pfaeffle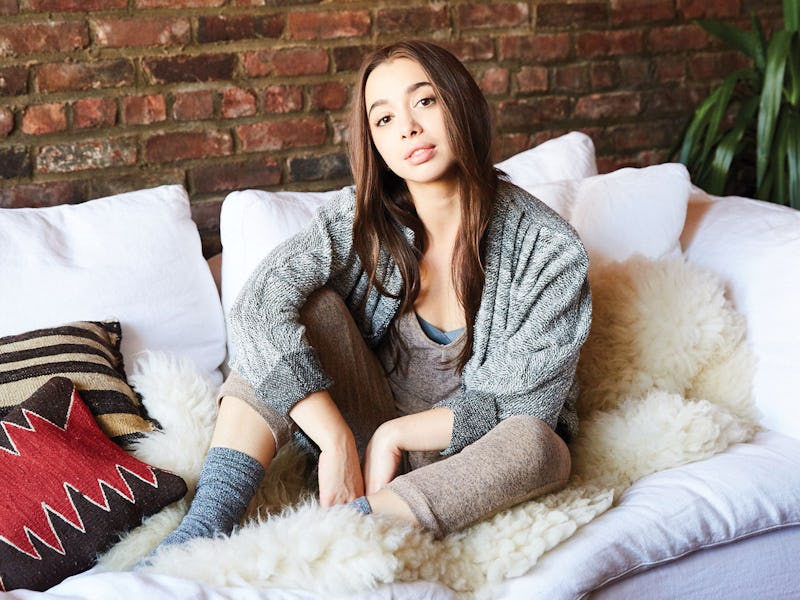 We all have that friend who makes success look easy. Because we know and love them, we're aware that their achievements are the result of years of intense work and dedication — but that effortless grace never ceases to amaze. For me, Emma Pfaeffle is that person. One of my closest friends of over 20 years, she's constantly pushing herself, making her world her own, and from her on-stage magic to her off-duty style, she magnetically inspires those around her to embrace what drives them.
My earliest memories with Emma involve piles of dress up clothes and theatrical presentations of characters we'd craft together after school. With the help of our siblings we'd put on full-fledged living room fashion shows (coercing my little brother into being our MC, complete with baggy jeans and space goggles) and run our outfit changes like it was actually Fashion Week and not a late '90s Los Angeles living room. We took dance classes together for years, put on hundreds of plays, and went on too many adventures to count. When Emma took her huge talent and unquenchable passion for dance to New York City, no one was surprised to see her rise to the top. After graduating from a competitive conservatory, she toured the world with West Side Story, Ballet Hispanico, Morphoses, and recently completed a two year run as Wendy in Finding Neverland on Broadway.
I don't know anyone who's mastered off-duty style so authentically. So in partnership with UGG, we asked Emma to dish on six essential rules to follow when developing your own effortless, off-time aesthetic.
1. Comfort Is Mandatory... And A Little Laziness Is OK
Emma is wearing the UGG Classic II Mini in Stormy Grey.
"This is the quintessential 'lounging in my apartment on my day off' look. This is the comfiest onesie of all time and you can't go wrong with a blanket sweater — perfect for unwinding and watching old movies on the couch."
2. Easy Doesn't Have To Mean Boring
"I need comfortable, stylish clothes that are danceable for rehearsal but wearable out of the studio. I usually sport high-waisted leggings with a crop top or baggy sweater. And UGG boots are just so cloud-like. They're easy to slip on and keep me so warm — which is essential off stage and in rehearsals. And the fact that I can wear them around the city... I couldn't think of a better life hack."
3. Layer Like A Pro
"If I'm headed to a yoga or ballet class (yes, even in my off-time!), I always go for leggings and an easy tank top. And I never leave the house without a comfy pullover."
4. Discover The Life Changing Magic Of Co-Ords
"I am absolutely in love with this cropped sweat set. Perfect for a busy day running from rehearsal to the grocery store and back to the theatre for a show. It's totally effortless, which is just what I need on a busy NYC day."
5. Versatility Is Key
"I used to put a lot more effort into creating outfits before I started working full time. Now, I need versatility so that I can easily run to rehearsal and not have to carry a bulky change of clothes."
6. Don't Be Too Precious
"Diane Paulus, the director of my last show, told us on the first day of rehearsal to 'hold on tightly, let go lightly,' which if you think about it, rings true for just about any situation — commit to the moment and let go when it's finished."