6 Unique Ways To Meet Quality People IRL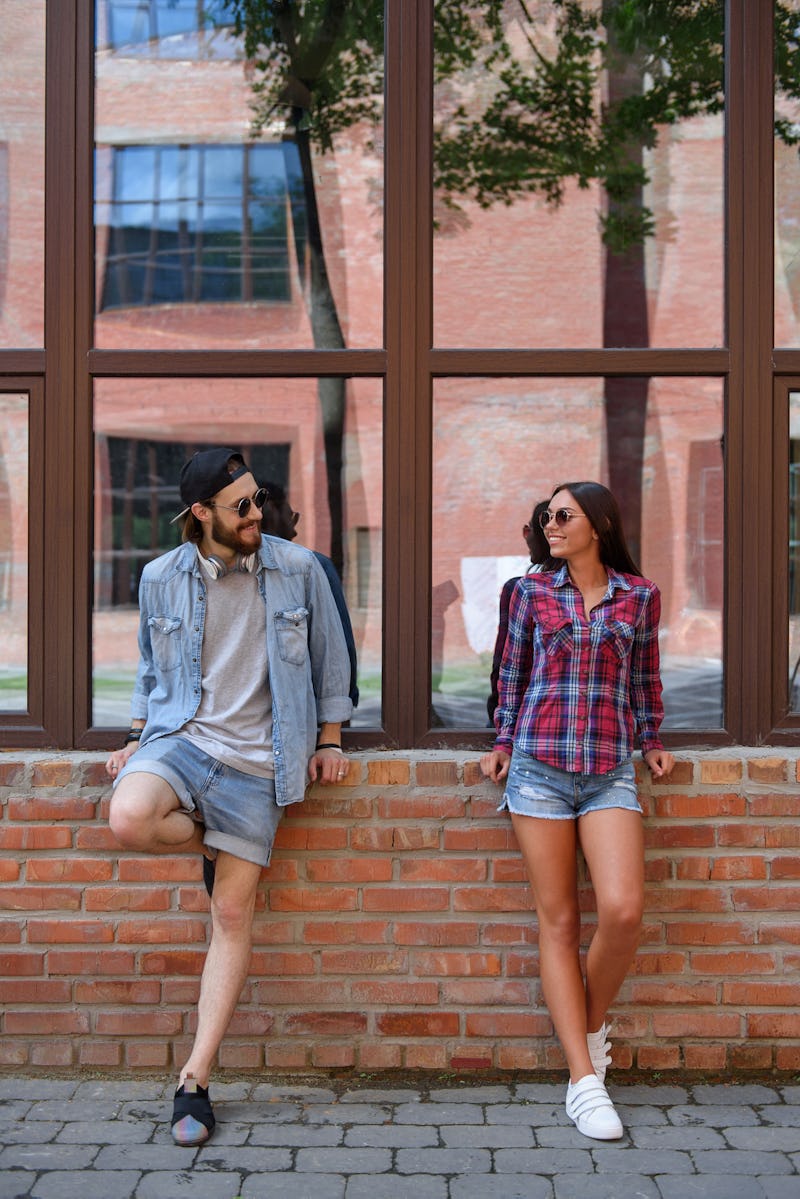 Whether dating apps are causing a "dating apocalypse" or are merely the easiest way to get a date, there's no denying these tools have been total game-changers in the dating scene within the last few years. And even though dating apps are most popular among Millennials, according to a recent survey of over 1,000 users by Bustle and dating app Happn, 78 percent of women and 85 percent of men still want to meet people IRL. That's why for the second year in a row, Bustle is deeming this month "App-less April" and encouraging our staff and readers to delete their dating apps for 30 days and meet people the old-fashioned way: offline. With participants tracking their progress and tricks and tips from dating experts, we'll be helping you feel empowered to meet people IRL all month long. Today's topic: Dating expert Damona Hoffman shares reveals the best places to meet quality people.
As a certified dating coach who married her online dating sweetheart 10 years ago, I have coached singles for years about how to meet quality people using dating apps or sites. So when clients have come to me in the past feeling like they have dating app burnout, what do I tell them to do?
Delete them.
This recommendation is usually met with shock and awe. How could someone who says that online dating is the most powerful tool in your dating toolbox suggest that? Put simply, when you get dating app fatigue, continuing on the Tinder Train will only make you resentful and frustrated about dating.
The biggest benefit of using dating apps in the first place is to practice flirting skills, master texting foreplay, and develop the awareness that, even when you might feel like the last one to the altar, singles are actually all around you all the time. Deleting your dating apps doesn't mean throwing in the towel on finding love. It's an invitation to be more creative about discovering dates. Bustle's App-less April is the perfect time for you to explore other unique ways to meet quality people. Here are six of them:
The best way to find someone who enjoys the same activities you do isn't by seeing which "interest" boxes they checked on a dating app, but by actually meeting them while doing that activity. Try making a match at meetup groups, classes, trade shows, and conferences.
It's no secret that sometimes the quality of dates is lacking on dating apps. So while you're dating offline, why not elevate your caliber of dates by looking for connections in high-quality locations? Scope out a singles at a book signing or investigate which museums in your area offer after-hours singles mixers.
If you're heterosexual, one of my secret dating tips is to flip the ratio in your favor by exploring activities that are dominated by the opposite gender. When you are the only woman in a sports bar or the only guy in a yoga class, your odds increase exponentially.
In my 30-Day Dating Playbook program, I give singles the formula to tap into their Connectors Circle for dates. These are the people who are in your life who might know the type of person you would want to date.
The quality that most singles now tell me is sexiest is intelligence. Attending a trivia night at a local bar is the perfect way to score a date who is sexy and smart.
Instead of driving or taking a taxi, opt for walking or taking public transportation so you can come face to face with other singles. If you put your phone away and actually observe your surroundings you might realize that a cutie has been smiling at you and waiting for you to notice.
App-less April is not a time to retreat and wallow in the loss of your dating apps. Try one of these six unique ways to meet quality people and you can have instant dating success IRL.
Watch Bustle's Sex & Relationships Editor Michelle Toglia share her favorite way to meet unique singles offline with Damona Hoffman in her recent Dates & Mates Podcast interview.
Damona Hoffman is a Dating Expert & TV personality from FYI TV (A+E Networks) and the host of the Dates & Mates podcast. Check out the free dating advice videos, blogs and the quiz "Which Movie Genre is Your Dating Life Like?" at DamonaHoffman.com.
Join the campaign and share your stories with #ApplessApril and ​by ​tagging @Bustle.