7 Victories This Week That Prove Protests Works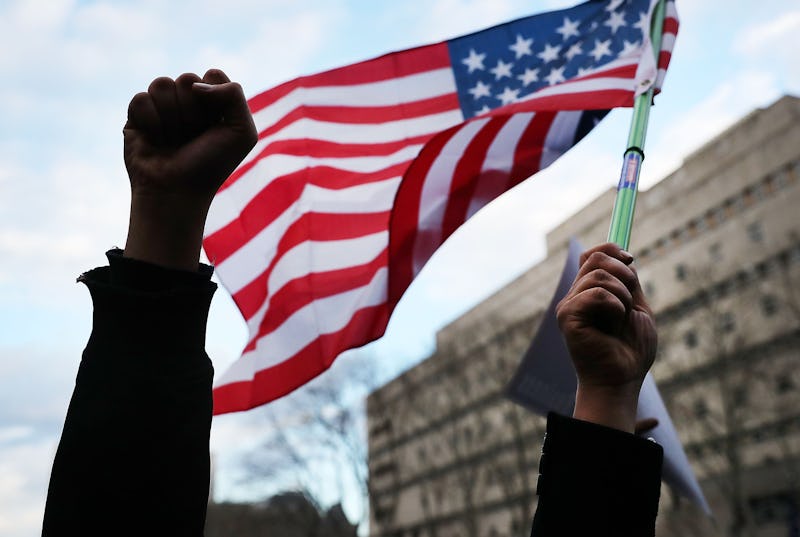 Spencer Platt/Getty Images News/Getty Images
Millions of people across the United States and around the world have participated in anti-Donald Trump demonstrations after his unexpected presidential win. As he and his supporters celebrate the passing of regressive executive orders, it's natural to question whether all the marching and boycotting will make a difference. If some of the developments from the past week or so are anything to go by, it's safe to say that the protests against Trump have worked and they are bound to spark even bigger changes from here on out.
Since taking office, the new administration has implemented orders meant to limit abortion and birth control access, defund sanctuary cities and kick start the deportation of millions of undocumented immigrants; strip millions of Americans of their health insurance, pave the way for the construction of the Dakota Access Pipeline and the Keystone XL pipeline, and remove regulations requiring manufacturers to produce environmentally friendly products.
Activist groups have responded by encouraging those who oppose these measures to send donations to progressive organizations, organize protests, and call their representatives in Congress. And people have listened.Rep. Sandy Levin, 85, described the country as not having been so energized since the '60s. "I've been around for a long time," he said. "I haven't seen anything like this since the Vietnam War."
Take a look at how this energy has been putting change in motion.
1. Sen. Bill Kintner Forced To Resign
After retweeting a so-called "joke" implying that three protestors at the Women's March in Washington were too unattractive to be sexually assaulted, Republican Sen. Bill Kintner was forced to resign.
2. Nordstrom Dumped Trump
Ivanka Trump's fashion brand was reportedly already suffering from declining sales even before her father won the election. Naysayers suggest that the #GrabYourWallet campaign, which urges people to boycott retailers carrying the Trump family's products, had nothing to do with Nordstrom's decision because it would have required more than a few days to cause a significant decline in sales. These skeptics seem to mistakenly believe that the #GrabYourWallet boycott began after Inauguration Day. In fact, the protest has been active for months, and was already reported to be making an impact long before President Trump took office.
3. Neiman Marcus Dumped Her, Too
After Nordstrom's decision made headlines, Neiman Marcus shortly followed suit. It won't be surprising to hear of other Trump-supporting retailers doing the same.
4. Uber CEO Ditches Trump Council
Over 200,000 Uber customers reportedly deleted their accounts after the company was widely perceived as having capitalized on a taxi drivers protest opposing Donald Trump's Muslim ban. Uber continued providing service to customers at JFK Airport while the New York Taxi Drivers Alliance carried out a strike. CEO Travis Kalanick also came under fire for being part of the president's business advisory council and for releasing a statement on Trump's ban in which he only expressed concern for Uber drivers who may be affected, rather than condemning the measure as a whole.
Kalanic ultimately decided to quit the president's advisory council due to public pressure.
5. Republican Lawmakers Admit To Being Scared Of Protestors
Rep. John Faso, a Republican congressman from New York, was secretly caught on tape admitting to being afraid of defunding Planned Parenthood because of the public likely reacting by flooding Democratic members of Congress with a slew of donors.
"We are just walking into a gigantic political trap if we go down this path of sticking Planned Parenthood in the health insurance bill. If you want to do it somewhere else, I have no problem, but I think we are creating a political minefield for ourselves — House and Senate... To me, us taking retribution on Planned Parenthood is kind of morally akin to what Lois Lerner and Obama and the IRS did against tea party groups. Health insurance is going to be tough enough for us to deal with without having millions of people on social media come to Planned Parenthood's defense and sending hundreds of thousands of new donors to the Democratic Senate and Democratic congressional campaign committees. So I would just urge us to rethink this.
6. Disney CEO Ditches Trump
While it's not clear if Disney CEO Bob Iger has decided to completely follow the example of Uber's CEO by quitting Trump's business advisory council, Iger did cancel on a scheduled meeting. His future on the council doesn't look likely, which is commendable.
7. Judge Blocks Travel Ban
Judge James L. Robart gave hope on Friday to those worrying that the U.S. system of checks and balances was eroding when he put a temporary block on Trump's executive order banning visitors and refugees from seven primarily Muslim countries. The rarity of such a move, as well as the swiftness with which it was carried out, speaks to how urgently the public demanded action.
So, keep donating, marching, calling, and boycotting.