Tucker Carlson Has Made Some Really Offensive Remarks About Women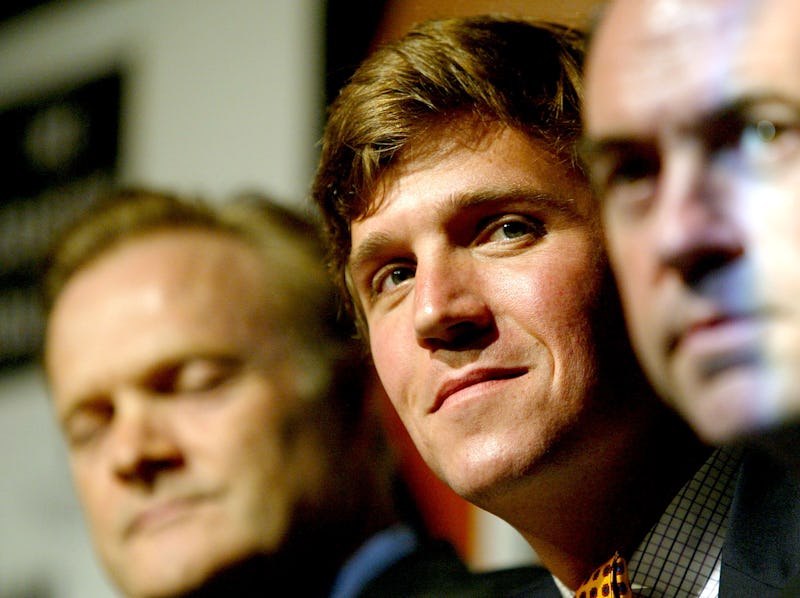 Paul Hawthorne/Getty Images Entertainment/Getty Images
Bill O'Reilly was officially released from Fox News on Wednesday following allegations of sexual harassment against the conservative talk show host. Although O'Reilly denies the allegations against him, they were enough to cause advertisers to pull their ads from his prime-time show and women across the country to call for his removal. Political commentator Tucker Carlson will be filling his time slot, but unfortunately Carlson's comments about women are more than troubling too.
Carlson began his career with Fox News as a weekend host for Fox & Friends in 2013. He then debuted his own prime-time show, Tucker Carlson Tonight, in November 2016 after Megyn Kelly left the network. Now, Carlson's show will be moved from its current 9 p.m. EST time to O'Reilly's coveted 8 p.m. EST slot, which usually draws the highest nightly ratings.
While O'Reilly's dismissal can be seen as a sign that Fox News is attempting to make the network more inclusive and respectful of women, Carlson, who will likely now be seen as the new face of the network, doesn't have the best track record when it comes to what he's said about women. In fact, some of his comments have been extremely disrespectful, not to mention incredibly cringe-worthy.