7 Yoga Routines You Can Do With Your Dog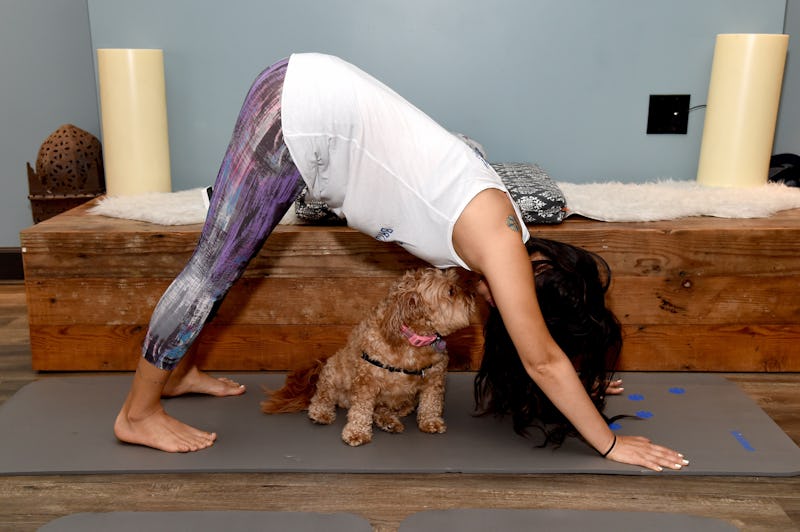 Michael Kovac/Getty Images Entertainment/Getty Images
From beer yoga to goat yoga and everything in between, there are a lot of gimmicks designed to get you on the mat. But adopting a dog-friendly yoga routine, also known as doga, isn't one of them. Doga is all about strengthening the bond between you and your dog. And since most dogs are natural yogis (dogis) — it's not called downward dog for nothing, after all — inviting your pup to join your yoga practice is easier than you think. In fact, there are even doga classes so you and Fido can practice among other pups and people.
If you practice yoga at home, it's likely your dog is curious as to what all of your posing is about. Your pup probably even gets in the way by lying on your mat. This is a perfect time to invite Fido to join your practice. Obviously, your dog is not going to be interested, or physically able, to perform all of your yoga poses. However, Fido can share in stretching and meditating with you because animals are attracted to the energy of these kinds of practices. Whenever I meditate, my dogs and cats lie next to me and fall into what seems like a trance.
"Like yoga, doga balances, harmonizes, purifies, and transcends the body and mind of the practitioner," doga teacher Madhavi Bhatia told Julia Lane for The Bark. "What makes doga unique is the practice and benefits that create a harmony and synchronization of energy flow between the owner and dog." In addition to a formal practice, you can also incorporate yoga into many activities you already do with your dog every day. Ready to get started doing doga with your doggo? Try these dog-friendly yoga routines.