These "Ever Since New York" Lyrics Could Be About T. Swift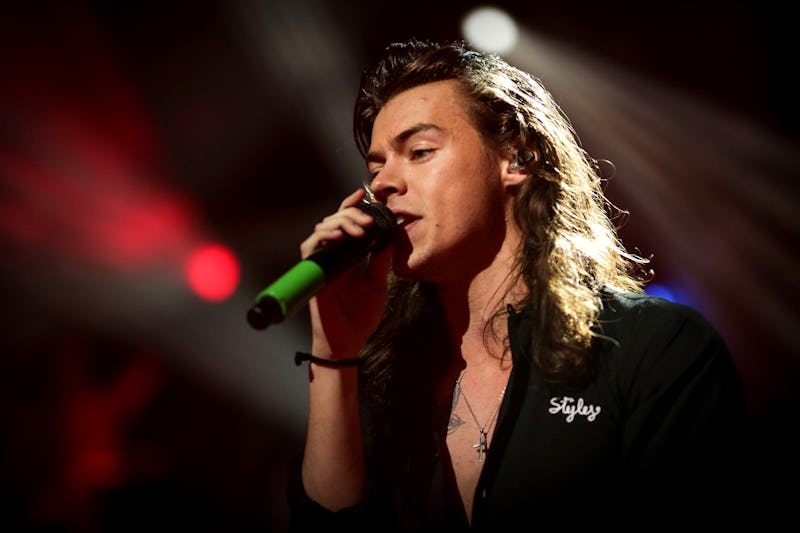 Christopher Polk/Getty Images Entertainment/Getty Images
Harry Styles proved his solo star power on this weekend's Saturday Night Live. The former One Direction singer will release his debut album, Sign of the Times, on May 12, and so he debuted some new tracks during Saturday's live performance. And while his impressive pipes and Mick Jagger-esque antics were of note, one song Styles performed caught many fans' attention for another reason. Since it appeared on the track list, people have wondered if Styles' "Ever Since New York" is Taylor Swift, and now that the track has been revealed, let's take a second to examine the evidence that Styles might have penned the song about one particular ex.
Swift, of course, has never shied away from writing about her relationship with the 1D singer. When Swift sang part of "I Knew You Were Trouble" in a mocking British accent at the 2013 Grammys, it seemed pretty conclusive the track, or at least that version, was meant for Styles. Several songs on 1989, too, feature lyrics that apparently nod to Styles, including the appropriately named "Style" and "Out of the Woods". And so the fact that the Swift single "Welcome to New York" is suspiciously close to the title of Styles' new "Ever Since New York" has sparked rumors that he has written a response. After hearing the track, there are definitely some lyrics which suggest the song might be about Swift.
"Brooklyn saw me, empty avenues/There's no water inside this swimming pool/Almost over, that's enough from you"
Swift has a well-documented love for New York, which she moved to in 2014, and given her enthusiasm for the city, it seems unlikely that Styles chose NYC as the setting for his new song by coincidence. "Ever Since New York" is also a definitive breakup song, and the solemn lyrics above suggest the dissolution of a relationship that has strong ties to NYC.
"Choose your words 'cause there's no antidote"
To me, it seems this could be addressing Swift's choice to discuss their breakup publicly. If so, Styles doesn't seem to be saying this is wrong, just that there's no taking back strong words. Especially, perhaps, words written into a song that are then sung at the Grammy Awards; those might sting a bit.
"I need something, to tell me something new"
The protagonist in this song (cough, Styles) isn't getting quite what he needs out of the relationship, and most of the lyrics are about needing to be told something new and not getting that from one's significant other. Could these communication problems be the reason he and Swift split?
"I've been praying/Understand I'm talking to the walls/And I've been praying since New York"
While it may be a broad interpretation, this could be about Styles' disillusionment after his breakup with Swift. When the two first dated, they were both very young: Swift was 22, and Styles was 19, and that could've been a factor in their split. If this song is actually about their romance, hopefully it will help Styles, if he's still invested, move on from the romance.
"Oh, tell me something I don't already know"
If you want to take this a step farther, perhaps the lyrics from the song's chorus could be addressing the widely discussed relationship. Styles certainly took a lot of blame for the split, and perhaps this is him addressing the criticisms, from Swift and fans, head on.
"For this curse/What's in waiting for/Must desert you just before you go"
Is it possible that this is Styles wanting to move on from the relationship? The romance has certainly remained in the public consciousness, and this song might be a way to free himself from the past.
Of course, this lyrical analysis is all speculation, and the jury is still out on whether or not the song is actually about Swift and Styles' relationship. While there are some hints it might be, their romance was all the way back in 2012, and it was pretty short-lived. Still, it wouldn't be that surprising for Styles to work it into his solo work, and perhaps the rest of the album will have more answers.