Cleansing Your Face When It's Sunburnt Calls For Some Specific Routine Changes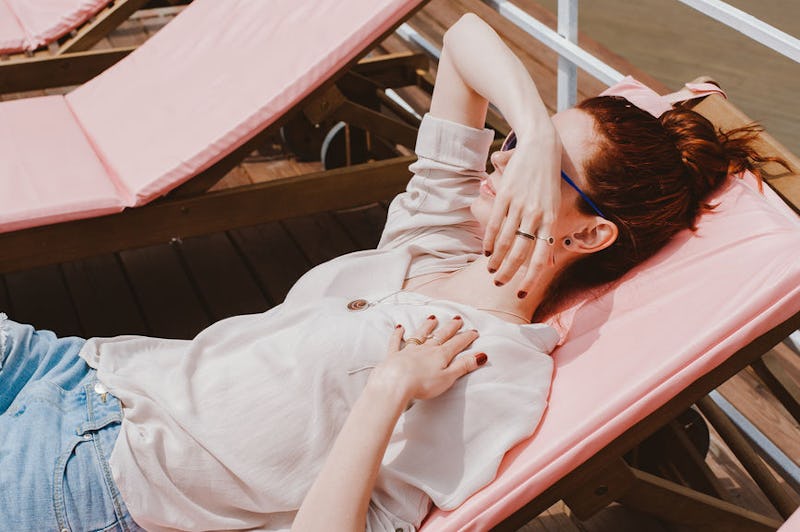 Lyuba Burakova/Stocksy
Most of us are all aware that using sunscreen on our bodies and faces is crucial in protecting skin from short term and long term damage. While most experts would advise wearing an SPF 30+ on your face (I use 50), accidents do happen, so it's best to be prepared for when they do. With this in mind, I went searching for the best face cleansers to use on sunburnt skin, along with some tips for how to treat skin that has been out in the sun for too long.
While the NHS advises taking certain measures to treat sunburn, such as drinking plenty of water to avoid dehydration, and applying damp cold flannels and towels to the sunburnt area, it's crucial to also adjust your skincare routine accordingly also.
From personal experience, I would recommend sticking to super simple formulas that are designed for sensitive skins and that do not contain fragrance or harsh chemicals. I really like to use milky textures for occasions like this, as they are ultra soothing and comforting for skin.
Dermatologist Dr Sam Bunting told Good Housekeeping that "sunburnt skin will absorb skincare products more readily, as your barrier function is reduced." For that reason, you need to avoid anything with exfoliating acids in them, or products like retinols. "I'd also skip all exfoliants and perfumed skincare – the blander, the better," she told the publication.
With this in mind, let's take a look at the cleansers that are super gentle to skin and are suitable for when the worst happens: