7 Things To Know About Amanda Anisimova, The US Teen Storming The French Open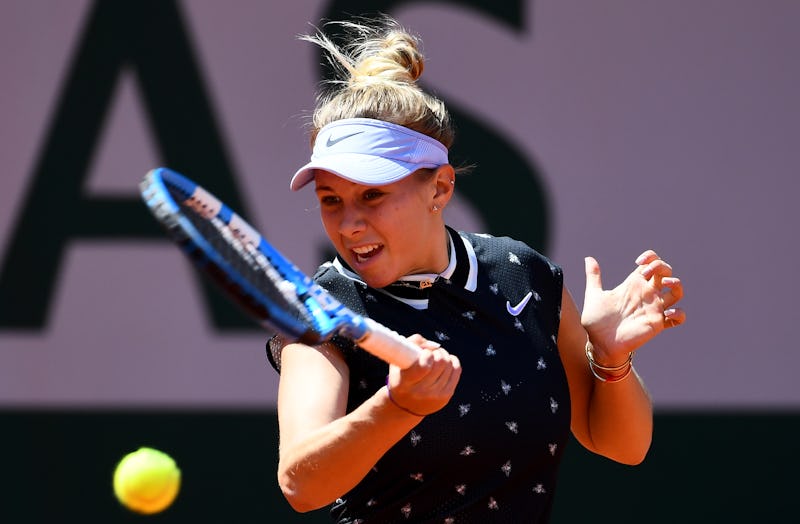 Clive Mason/Getty Images Sport/Getty Images
On Thursday, a 17-year-old tennis player became the youngest American woman to advance to the French Open semifinals since 1990. She defeated defending champion Simona Halep 6-2, 6-4 to make it into the final four, where she will be the youngest player in 12 years to participate in a Grand Slam semifinal. Here are some facts about tennis player Amanda Anisimova as she continues to break records at the French Open.
Before Anisimova, Venus Williams was the youngest American woman to compete in the semifinals of a Grand Slam — she was the runner-up at the 1997 U.S. Open, per CNN. But at Roland Garros, where the French Open is held, Anisimova became the youngest American woman to make it into the semifinals since Jennifer Capriati in 1990. Now, Anisimova will go on to face Australian player Ashleigh Barty in the final four, USA Today reported.
"I just played the best tennis of my life," Anisimova said after her quarterfinals victory over Halep, per Yahoo! Sports. "I don't know how, and I don't know how I did it, but it just happened."
This isn't the first time Anisimova has proven herself as a tennis star to watch, either. Below are seven things to know about Anisimova as she prepares for her next round of competition.