Seven Women Who Had To Negotiate For Equal Pay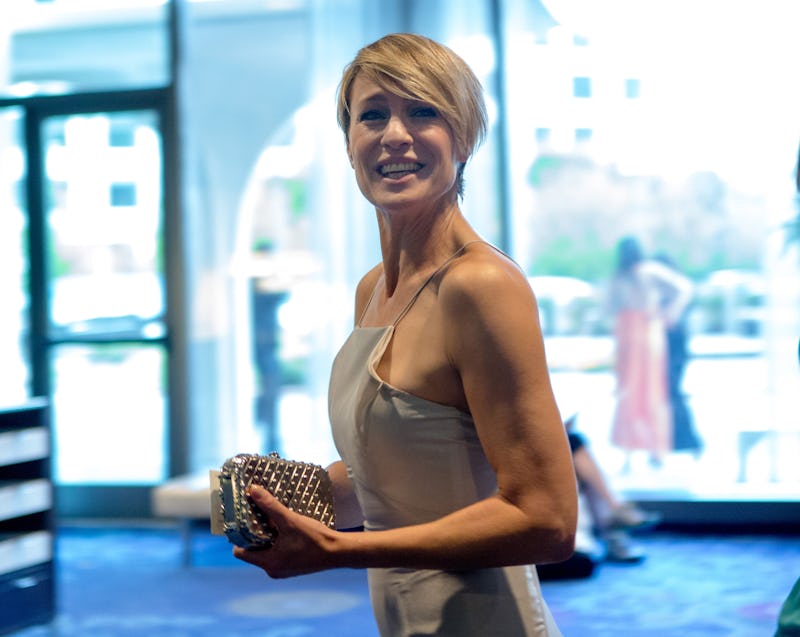 Allison Shelley/Getty Images Entertainment/Getty Images
Equal Pay Day was designed to spark a conversation and advocate for equal pay for women. While some women still do not receive the same compensation as their male counterparts, there has thankfully been some progress in recent years. Since systemic change is easier said than done, plenty of women have had to take matters into their own hands to fight for their equal paychecks. In various fields, women have negotiated for equal pay.
It's important to note that negotiation doesn't guarantee that women will receive equal pay. In fact, according to a survey from Glassdoor, men are three times more likely to successfully negotiate their salary than women.
This also is not to say that it is on women's shoulders to negotiate their pay. Ideally, employers would offer women equal salaries to those of the men working in the same positions at the same levels. However, in some cases, women negotiating a salary is an efficient way to get what they need.
In the last few years, Hollywood has been discussing equal pay for women more; actresses have voiced their opinions on the issue and shared their personal experiences of finding out their male co-stars made more money than they did. After a hacking scandal at Sony that led to actors' salaries being leaked and finding out that her male co-stars made more, for example, Jennifer Lawrence wrote a letter for Lenny that detailed her frustration with wanting to be liked over not wanting to appear "difficult," and how she then refrained from negotiating.
Getting over that feeling of not wanting to seem "difficult" or "needy" is something that many women are forced to reckon with during their job hunt and annual reviews. Unfortunately, the societal pressure to be seen as cooperative hurts women's chances in achieving equal pay.
However, it's important that we have this conversation and allowing women to feel like they have the power to negotiate. Here, to inspire you, are stories of a few women who had the courage to do just that.
1. Lilly Ledbetter
The namesake behind the Lilly Ledbetter Act of 2009 was a Goodyear Tire Company employee who had experienced sexual harassment and discrimination. Goodyear did not allow employees to discuss pay, so it wasn't until someone slipped her a note telling her how much less she was making than her male co-workers did Ledbetter understand the unfairness she was experiencing.
She sued and won, receiving back pay and $3.3 million in punitive damages. However, the decision was overturned in a higher court because the lawsuit was filed more than 180 days past the original discriminatory salary was set. Ledbetter was vindicated when former President Barack Obama signed the decision, which revised the 180-day limit from the date the salary is set to the date the paycheck is delivered.
2. Kangela Moore
Kangela Moore was a New York City school safety agent at a public building who was doing similar work to male peace officers in New York but making $7,000 less. She sued and received a $38 million settlement for herself and other women affected by the gap. She also negotiated a new contract with a 33 percent raise.
3. Mika Brzezinski
When the MSNBC Morning Joe anchor learned that her co-host was earning 14 times her own salary, Brzezinski decided to go public with her negotiations. While she didn't end up getting quite the same pay as Joe Scarborough, she did manage to even things out a little, negotiating a pay bump.
4. Tamara Mellon
When Jimmy Choo co-founder and Chief Creative Officer Tamara Mellon learned that she was making less than the men working for her, she started negotiating her salary. In 2016, when she launched her own company, she made sure her policies more closely reflected her beliefs about equal pay.
5. Venus Williams
After years of speaking out about the pay disparity in women's and men's tennis, Venus Williams was finally vindicated in 2007, when Wimbledon finally decided to give equal cash prizes to men and women.
6. Robin Wright
When Wright, a Golden-Globe-winning actress with considerable experience in the entertainment industry, found out that her House of Cards co-star Kevin Spacey was making more than she was, she went to Netflix to level the playing field. Wright argued that her character was more popular than Spacey's, and used that to leverage her raise.
7. Charlize Theron
Following the Sony email leak and Lawrence's letter, Theron decided to negotiate her salary for her upcoming film The Huntsman, for which her co-star Chris Hemsworth was making more than her. She ended up getting an additional $10 million for her efforts.
It can be incredibly intimidating to take the step to negotiate a salary, and there is certainly a chance you will be told no, but it's so important for women to be able to stand up for themselves and tell their employers that they are worth as much as their male peers.