7 Feminist Quotes From Women Jockeys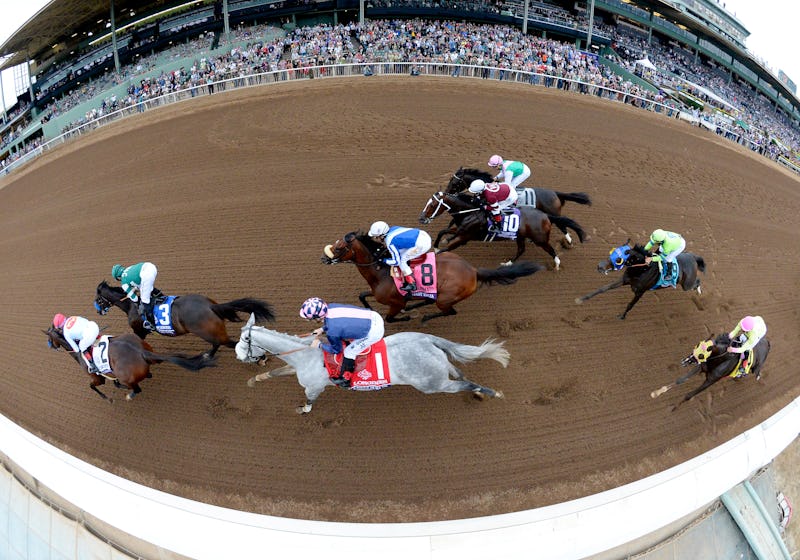 Kevork Djansezian/Getty Images Sport/Getty Images
Women represent only 10 percent of professional jockeys. Even in one of the only sports in which women compete head-to-head with men, there is still a woeful lack female representation. But the women who are carving the way for little girls to become jockeys shine as strong examples for the future of the sport. Here are seven feminist quotes from women jockeys that reveal it's a woman's world just as much as a man's.
The first female jockey to compete in a betting race in the United States was Diane Crump. In her first race, at the Hialeah Park Race Track in Florida in 1969, then-18-year-old Crump faced such vitriol that she required a police escort. "The hecklers were yelling: 'Go back to the kitchen and cook dinner.' That was the mentality at the time," Crump told CNN in 2012. "They thought I was going to be the downfall of the whole sport, which is such a medieval thought. I was like: 'Come on people, this is the 1960s!'"
Jockeys don't quite face that kind of blowback today, but it doesn't mean that barriers are no longer there. Only one woman, Rosie Napravnik, has ridden in all three of the Triple Crown races, and very few women have finished high in the rankings. But with powerful women coming before them, it's only a matter of time before little girls who love horses will reliably be able to make it a full-time career.
1. Rosie Napravnik
"I don't like to start anything, ever, but if they're going to try to intimidate me, I like to just stand there and say, 'Sorry, it ain't gonna happen.' I'm shy but I'm badass. I'm not shy in a timid way, just shy in a way that I'm not comfortable with people."
2. Chantal Sutherland
"I want to see more girls coming in to the sport. There were actually a lot in Canada when I was riding there, but we can let girls know that they can be jockeys. And if they can't be jockeys, why can't they be owners or trainers? We need to invite girls in."
3. Julie Krone
"If the stable gate is closed, climb the fence."
4. Emma-Jayne Wilson
"There is a perception among many trainers and owners that women aren't as strong riders as men but I disagree. My goal was to be one of the strongest finishers out there — and now I am. I set out to prove that we are just as good, if not better than the boys."
5. Hayley Turner
"I'm just one of the lads. I just think, 'If they can do it why can't I?'"
6. Diane Crump
"A horse doesn't know whether the rider on his back wears a dress or pants away from the track."
7. Clare Balding
"I believe that horses bring out the best in us. They judge us not by how we look, what we're wearing or how powerful or rich we are, they judge us in terms of sensitivity, consistency, and patience. They demand standards of behavior and levels of kindness that we, as humans, then strive to maintain."