7 Foods That Can Positively Affect Your Mental Health, According To Experts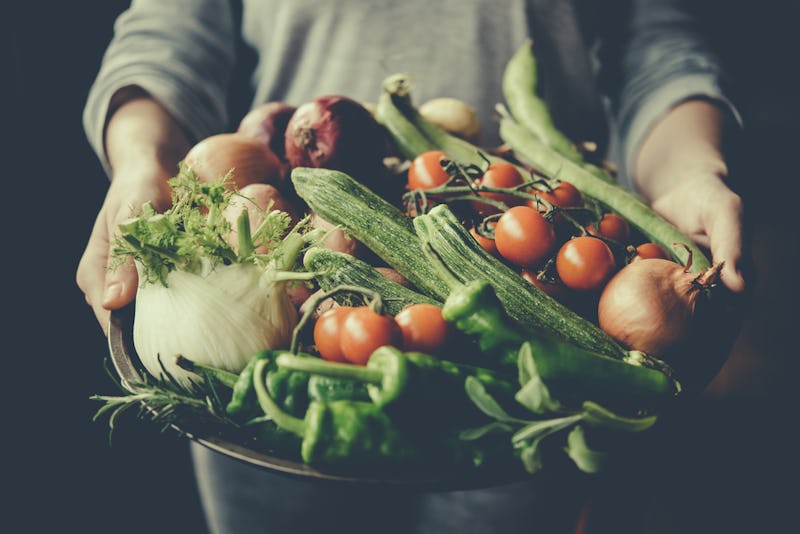 Yulia Grigory/Shutterstock
When you plan your meals for the week, you might not be taking your mental health into account — but, according to a growing field of research, food can have a positive impact on your mental health. Scientists have uncovered a connection called the gut-brain axis that links the health of your gut, and the millions of bacteria that make up its microbiome, with the health of your brain. That has big implications for how we understand mental health, and, as experts tell Bustle, can also mean that what we put on our plates influences how we think and feel.
One of the most interesting areas of research is in something called "psychobiotics." Dr. Sabrina Mörkl of the Department of Psychiatry and Psychiatric Medicine at the Medical University of Graz, an expert on the gut-brain axis, tells Bustle, "Psychobiotics are defined as specific subtypes of probiotics and prebiotics (fibers that promote the growth of beneficial bacteria), which impact the gut bacteria and the gut-brain axis and result in modifications of mood, anxiety and cognitive function." One of the strongest psychobiotics, she says, is diet, but we're still understanding how it can affect mental health; we know that it's necessary for the health of gut microbes and affects inflammation and the effectiveness of medications, but there's a lot of research left to be done.
It's important to take some of the media coverage of so-called superfoods that could affect the brain with a grain of salt. "Most of the research into the gut-brain axis has been conducted in mice," Dr. Ruairi Robertson, a nutritionist and microbiologist at Queen Mary University of London, tells Bustle. "However, these studies, and the few in humans, have provided some insight into what foods may target the connections that link the gut microbiome to mental health." Further, experts are aligned on the idea that changing one's food choices is not a substitute for therapy or mental health medication, and if you need mental health support, talking to your doctor or to a therapist will be the best place to start.
Science have a few ideas about what foods can help your mental health — and as research continues, we'll begin to understand more about how they help. Here are seven foods that may have surprising mental health boosts.