7 Free Running Apps To Help You Track Your Progress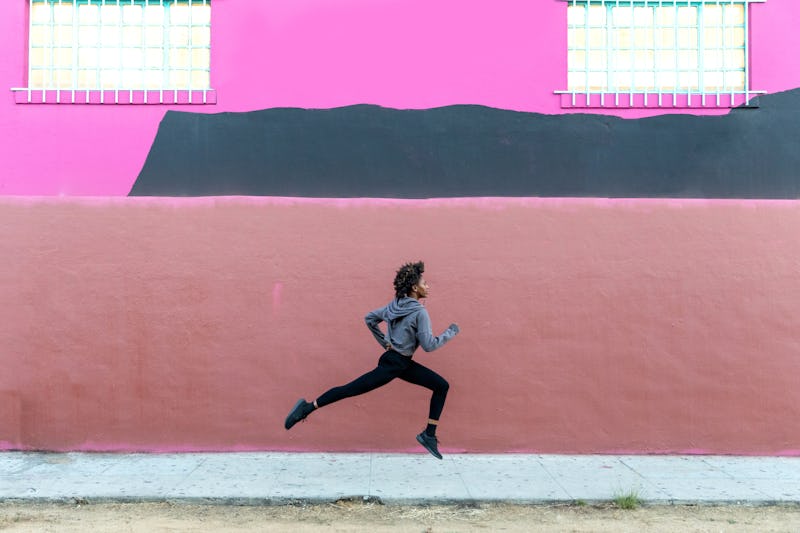 LeoPatrizi/E+/Getty Images
Training for a road race is rewarding, and it's also hard AF. If one of your fitness goals is to run a race, there are some pretty boss free running apps to help you train for a 10K. Because, you need some support, and in this case, technology totally has your back. If you have friends who are also runners, or you follow running hashtags on Twitter and Instagram, you've probably seen users post their daily progress via running apps.
While it might seem like they're bragging, using an app and posting your run on social media can not only help keep you accountable, it can also help you connect with other runners. Running apps allow you to set personal goals, design a training regimen that's right for you, and track your progress all the way up to the big day. "It's hard to beat the feeling of setting a goal, crushing it, and then letting your friends know," Nike noted on its website. "Even if you don't have a physical running group, your friends can cheer you on through Facebook and check out your post-run photos on Twitter and Instagram."
What's more, if you don't have time to join a running club, and you're having a hard time going it alone, running apps can act as your digital bestie. If it helps, you can even name your running app something like Sylvia, and make a date to run with Sylvia every day. What's more, your running-app BAE will always cheer you on and never tell you that you're not doing well enough. Ready to download? Here are the best free running apps to help you train for a 10K.
This article was originally published on