7 Gross Things That Can Happen At The Gym — And What You Can Do To Avoid Them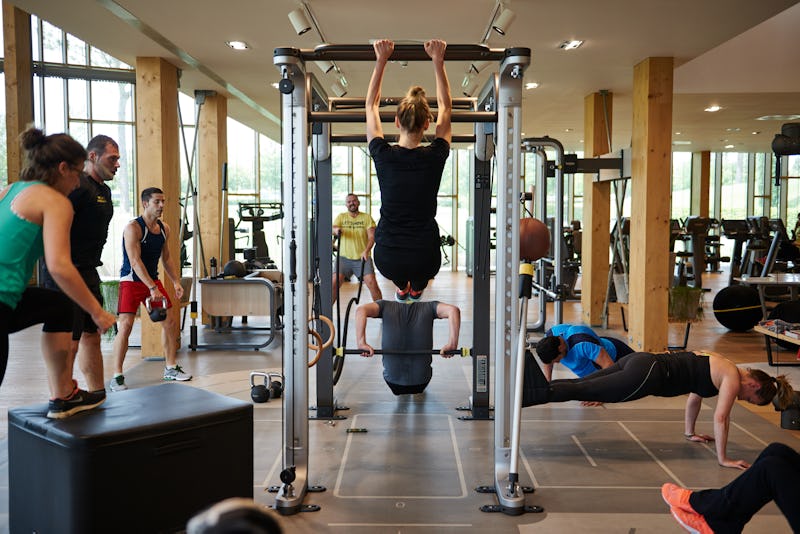 Guido De Bortoli/Getty Images Sport/Getty Images
If you're a gym newbie, you're probably psyched about hitting your new fitness center to try out all of the classes, machines, and free weights. Taking charge of your fitness goals can be empowering. However, because it's a communal space filled with sweaty bodies, there are some gross things that can happen at the gym that might make you wish you had stayed home and done that quickie Scientific 7-Minute Workout instead.
Before you cancel your gym membership — if you've ever tried to do this, or seen that episode of Friends where Ross and Chandler try to break up with their gym, you know it's about as easy as beaming yourself to the moon — there are some ways to avoid getting gross at the gym. When it comes to the gym, knowledge is power, and educating yourself can keep you from picking up any number of infections you can't pronounce. A study published in the International Journal of Environmental Research and Public Health found that personal hygiene, surface cleaning, and disinfection schedules of fitness facilities create an ideal breeding ground for bacteria.
It doesn't matter if your gym is super fancy or bare bones, similar to bed bugs (which you can also bring home from the gym), bacteria can live anywhere. "A high degree of microbial diversity originating from inanimate surfaces of fitness centers may be alarmingly implicated to poor personal hygiene of facility users as well as to the inadequate cleanliness of the facilities," the study concluded. Gross, right? Here are some things you can pick up at the gym so you can learn how to avoid them like that plague you don't watch to catch.