7 Happy Meal Toys That Are Worth Money Now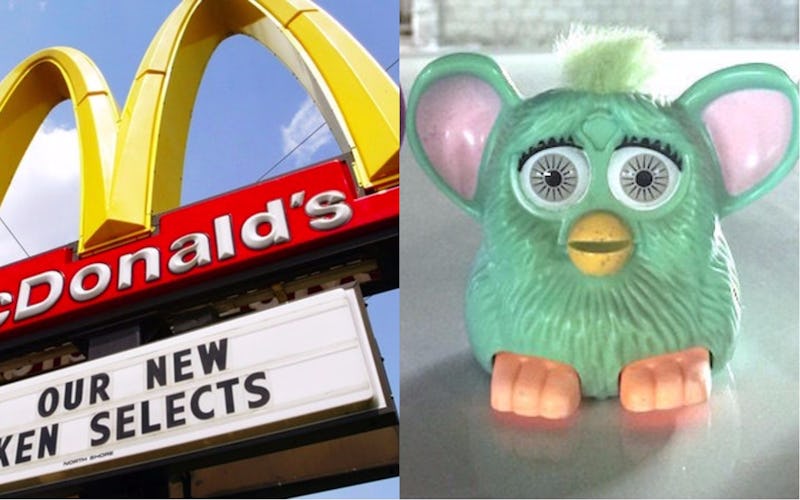 Tim Boyle/Getty Images News/Getty Images // EBAY
The joy of getting a McDonald's Happy Meal as a kid was two fold. Not only did you successfully convince your parents to take you to the holy land of chicken nuggets, you also got a toy as a trophy of your conquest. However, your battle likely did not end there. Convincing your parents not to inevitably throw away your Happy Meal toy likely involved some line about the toy definitely holding monetary value someday. Having '90s toys that are actually worth something now is the only reason your parents still have your collection of Beanie Babies and why you didn't immediately perform an exorcism on your Furby.
However, not all Happy Meal toys are just plastic trinkets still covered in french fry remnants. Don't get me wrong, a lot of them are. Everyone and their parents have giant Tupperware containers full of old, hamburger-smelling mini figurines. The market demand isn't there for just any old Happy Meal toy. But if you happen to have one of the chosen few toys, you could be sitting on a few extra bucks.
It's not just the vintage Happy Meal toys that could score you some spare cash. Earlier this year, adults across the country were trying to figure out how to get a Super Mario Happy Meal Toy without actually eating a Happy Meal. According the UK's official McDonald's website, you can buy a Happy Meal toy separately if you go up to the counter and ask. But also, like, be an adult and just buy a Happy Meal. It's fine. Nobody's going to arrest you for buying a kids' meal even though you are an adult. I've checked.
Should you find yourself rummaging through your childhood belongings, here are seven Happy Meal toys to keep an eye out for. As your childhood self hoped, today is the "one day" that they could actually be worth something.