7 Incredible Female Journalists Who Could Replace Matt Lauer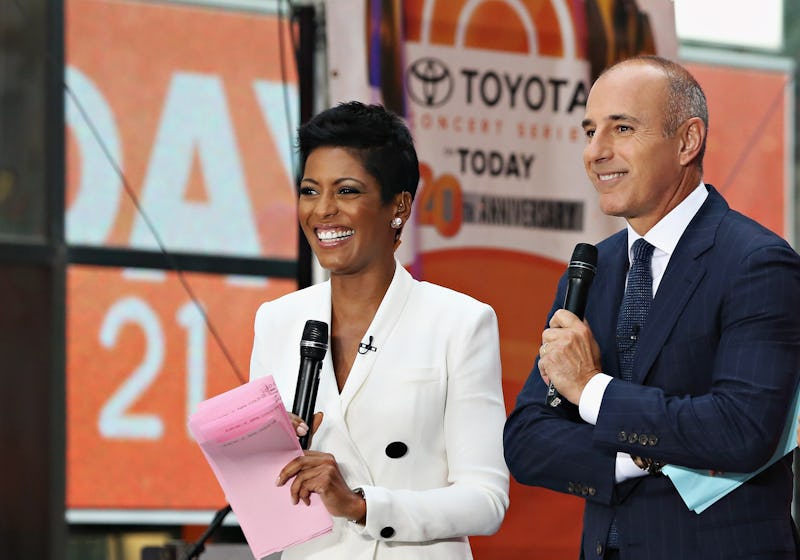 Cindy Ord/Getty Images
The question of who will replace Matt Lauer was top-of-mind for viewers,— and likely executives — of NBC's Today show, shortly after the longtime co-host's firing over alleged sexual harassment was announced. And though many names have already been thrown into the ring, there are several female journalists who would make worthy replacements for Lauer.
On Wednesday morning, NBC News announced that they had terminated Lauer due to allegations of sexual harassment by a colleague. Co-host Savannah Guthrie said the network had received a "detailed complaint from a colleague" and that NBC had "reason to believe this may not have been an isolated incident." Lauer has yet to respond to the allegations or his termination. Bustle has reached out to his representative for comment.
As details of the claims continue to trickle out, many are speculating about what the future holds for the morning show — in particular, who might replace the veteran host?
Many people have said that, considering the allegations against Lauer (and many other powerful men in media), a female journalist should be the one to get the top spot. "Here's an idea: Replace Matt Lauer with a woman," one person wrote on Twitter. "Petition to replace Matt Lauer, who is accused of sexual assault, with Ann Curry, fierce API woman who deserves the spot," another said.
Like Curry, several names have already been thrown into the ring. Here are a few options NBC could consider.
Ann Curry
As many have pointed out, Curry's is the buzziest name of the bunch, largely because of her apparent feud with Lauer. She worked as co-host alongside Lauer between 2011 and 2012 but reportedly felt undermined by the male-dominated atmosphere. Lauer, meanwhile, is said to have treated her poorly, even reportedly telling an assistant, "I can't believe I am sitting next to this woman."
Ultimately, Curry was let go from the program, but Wednesday's news that Lauer was fired has many suggesting that she could finally see justice by returning to the anchor seat. She certainly has the journalistic chops, having served as a foreign correspondent, anchor, and reporter for more than 30 years.
Ilia Calderón
Colombian journalist Ilia Calderón made headlines n August for her interview of a Ku Klux Klan member on the show Aquí y Ahora. Calderón, who is black and Latina, stood firm despite the fact that her subject threatened her so openly on camera that she was afraid for her personal safety. In November, her tenacity helped her land a coveted anchor spot next to Univision's veteran journalist Jorge Ramos on Noticiero Univision.
That announcement made Calderón the first Afro-Latina to anchor a weekday news desk on a major network in the United States.
Rachel Maddow
Rachel Maddow, the first openly gay anchor to host a major prime-time news program, has been the face of her eponymous show since 2008. Although she mostly covers politics, she's certainly demonstrated that she has the ability to draw viewers in — and Today has struggled with viewership in the past.
Between 2014 and 2017, the audience of Maddow's show nearly tripled from 849,000 nightly viewers to more than 2.3 million. In 2017 it was reported that Maddow had usurped the title of most popular personality in prime-time cable news — one that had long been held by hosts at Fox News.
Mary Carillo
Mary Carillo has a distinguished career as a sports analyst and reporter and has served as a correspondent to the Today show in the past. Most of her work has revolved around the athletic world, but her personality resonates with much of the American public. Some Twitter users were suggesting she become a Today anchor long before the Lauer accusations broke.
Her work has stood the test of time, too. A 2004 rant about badminton (first released long before "going viral" was even a thing) remains, according to NBC, the best sports commentary of all time.
Tamron Hall
Like Curry, Tamron Hall also left Today under controversial circumstances. Hall co-hosted the third hour of Today alongside Al Roker up until earlier this year, but she left once that slot of the show was offered to Megyn Kelly.
Upon the announcement of her departure, a source told People magazine that Hall wasn't content with "sitting on the sidelines." Hall herself told the magazine that she loved working on the morning program, adding, "I know it's rare to have a single black woman on morning TV."
Katy Tur
Katy Tur was a fixture on the political news circuit during the run-up to the 2016 U.S. presidential election. As a reporter covering Trump, Tur eventually landed coveted interviews with the man who would become president — though she was also the butt of Trump's jokes and was often taunted by his supporters.
Ultimately, Trump's many digs against Tur, who was at the time a foreign correspondent based in London, led to her writing a book about her experience and landing more high-profile gigs. Today she works as an NBC News correspondent and anchor of an afternoon hour of MSNBC Live.
Kasie Hunt
Kasie Hunt exercises her political reporting chops as the anchor of Kasie DC on MSNBC. The show only launched two months ago, so it might not be the time for her to make the leap to a new show just yet — but her skills would certainly make sense.
She's been vocal about sexual harassment, and her political background could be a great addition to the show, considering the amount of coverage all of the major networks are devoting to politics these days.
In its history, the Today show has touted eight male anchors and six female anchors. Until Wednesday, Lauer hosted the show alongside Savannah Guthrie, Megyn Kelly hosts the third hour, and the fourth hour of the program is hosted by Hoda Kotb and Kathie Lee Gifford. Were NBC to opt for a female journalist to replace Lauer, the show would be hosted exclusively by women for the first time in its history.