7 Last Minute New Year's Eve Looks Using Items You Definitely Already Have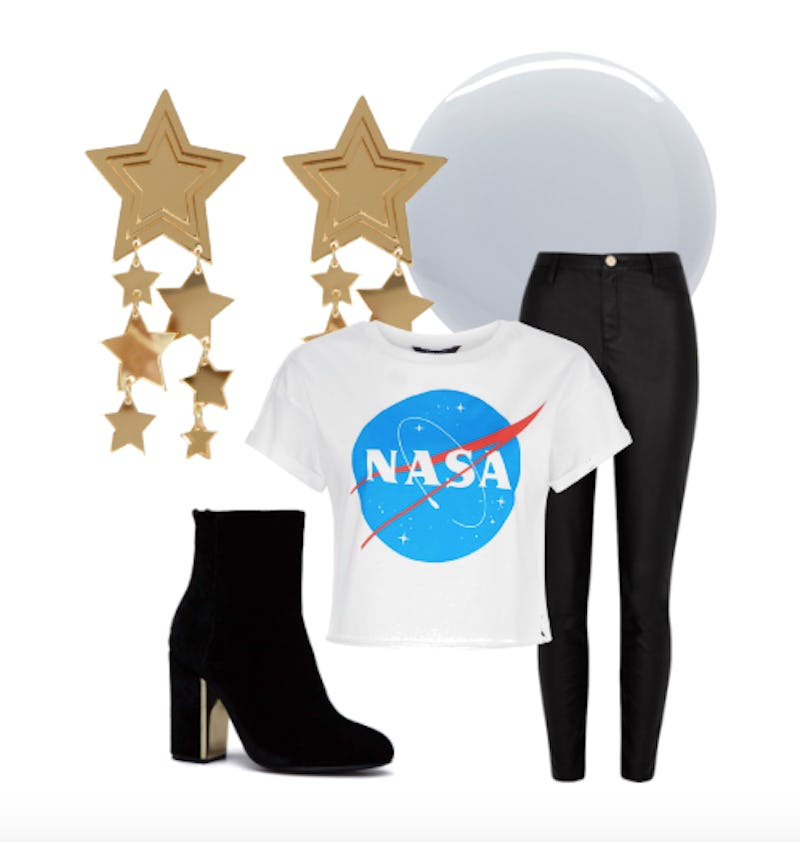 Polyvore
It's just days before ringing in the new year and you still don't know what to wear to that New Year's Eve party. Don't freak out. All the last minute New Year's Eve outfit inspiration you need is already hanging in your closet. That's right. The key is just to think about your outfit in a brand new way.
When it comes to the equation for the perfect New Years Eve outfit, I'm a firm believer that you already have everything you need. Odds are that there are tons of jewelry, shoes, and clothing already hanging in your closet. So instead of running out and buying something new that you'll likely never wear again, try piecing together what you already have.
The easiest way to do that is to pair items that you never have before. Just because you're wearing what you already have doesn't mean you can't go bold. You know those jeans that you'd been waiting to wear? Put them on. The accessories that are a little too extra for everyday wear? Dig them out. No one can say anything to you, because it's New Year's Eve — a.k.a. the time to be a little over the top.
Not only will you not have to shell out any cash on a new outfit, but you'll also ring in the new year in a look that you already love. It doesn't get better than that.
1. Dressed Up Graphic Tee
Star Drizzle Earrings Gold, Deborah Lippmann Nail Polish - Misty Morning, White NASA Print T-Shirt, River Island Black Faux Leather Skinny Fit Pants, ShoeDazzle Nakita Bootie, Polyvore
It was the year of the graphic tee, so there's a good chance that you have one already hanging in your closet. To make an old item new again, just pair it with dressier items. There's nothing wrong with pairing high and low end together. Not to mention you'll be comfy.
2. Little Black Dress
Silk Scarf, The Row Marina Crepe Mini Dress, Jennifer Meyer Women's Star Studs, Tarte Tarteist Lashes, Little Black Dress, bareMinerals Gen Nude Buttercream Lipgloss, Stuart Weitzman 'Tie Land' Thigh High Boots, Polyvore
You know that little black dress pushed to the back of your closet? Grab it and pair it with something colorful. Whether that's a bright pair of boots or that scarf you've been meaning to wear, you can't go wrong. The whole idea is to have fun with it. Just consider your little black dress as a blank canvas to be paired with anything.
3. High Glitter Accessories
George J. Love Earrings, TopShop Stitch Detail Sleeve Sweater, Boohoo Larah Basic High Waist Leggings, Smashbox Be Legendary Cream Lipstick, Ally Sparkling Sequin Ankle Boots, Smith & Cult Nail Polish, Polyvore
A little bitt of glitter goes a long way on New Year's Eve. All you need is a basic outfit, like a white sweater and pair of leggings, and some glittery accessories. If you don't already have something sparkly in your wardrobe, try amping up the look with a glittery manicure instead.
4. Black Mini Skirt
Rhinestone Tights, L.A.LU Design "Babe" T-shirt, Stella & Dot Sequin Rainbow Sparkle Drop Earrings, Smashbox Be Legendary Cream Lipstick, Bamboo Faux Leather Ankle Booties, Petite Black Button Front Denim Mini Skirt, Marc Jacobs Beauty Enamored Hi-Shine Nail Lacquer, Smith & Cult Nail Polish, Polyvore
This is the most fun base of them all. A black mini skirt goes with just about anything. You can go simple with a statement tee, bold with a pair of shimmery earrings, or both. Fashion has no rules — especially on New Year's Eve.
5. Colorful Sweater
Turtleneck Longline Chunky Sweater Ginger, Nocturne Marie Stud Fringe Earrings, M&Co Pieces Skinny Jeans, Pebbled Cross-Body Bag, Balenciaga Boot, Axiology Natural Organic Lipstick, Marc Jacobs Beauty Enamored Hi-Shine Nail Lacquer, Polyvore
You don't have to go all out with glitter to make a successful New Year's Eve outfit. All you need are some bold color combinations to make a statement. Everything from mustard yellow and red or navy blue and silver will do. The most important part is to have fun with it.
6. Faux Fur Jacket
Lime Crime Velvetines Liquid Matte Lipstick Bloodmoon, Dior "We Should All Be Feminist" T-Shirt, H&M Faux Fur Jacket, Black Strap Gemini Star Sign Watch, Joseph Gabardine Stretch Leggings, Oribe The Lacquer High Shine Nail Polish, Side Zipper Lace Up Ankle Boots, Polyvore
If you're anything like me, there's at least on piece of faux fur in your closet that almost never gets worn. Well, New Year's Eve is the perfect time to pull it out. You can't go wrong with a statement piece like that, whether it's dressed up or down.
7. Statement Jeans
Essie Winter Nail Color, Jersey Bodysuit, Rosefield Holiday Leather Strap Watch & Bracelet, MANGO Embroidered Straight Spring Jeans, ED Ellen Degeneres Lace-Up Leather Tennis Shoes, Louis Vuitton Veau Soie Iena Wallet, Polyvore
Not every outfit has to be dressed up to the max. Pull out the special pair of jeans that you're always a little bit intimidated to wear and rock them for a night. There's no better way to ring in the new year.
Contrary to popular belief, you don't need to start your year with a shopping spree. Because saving money and making a fashion statement is possible.