Lorde's 'Melodrama' References To Her Ended Relationship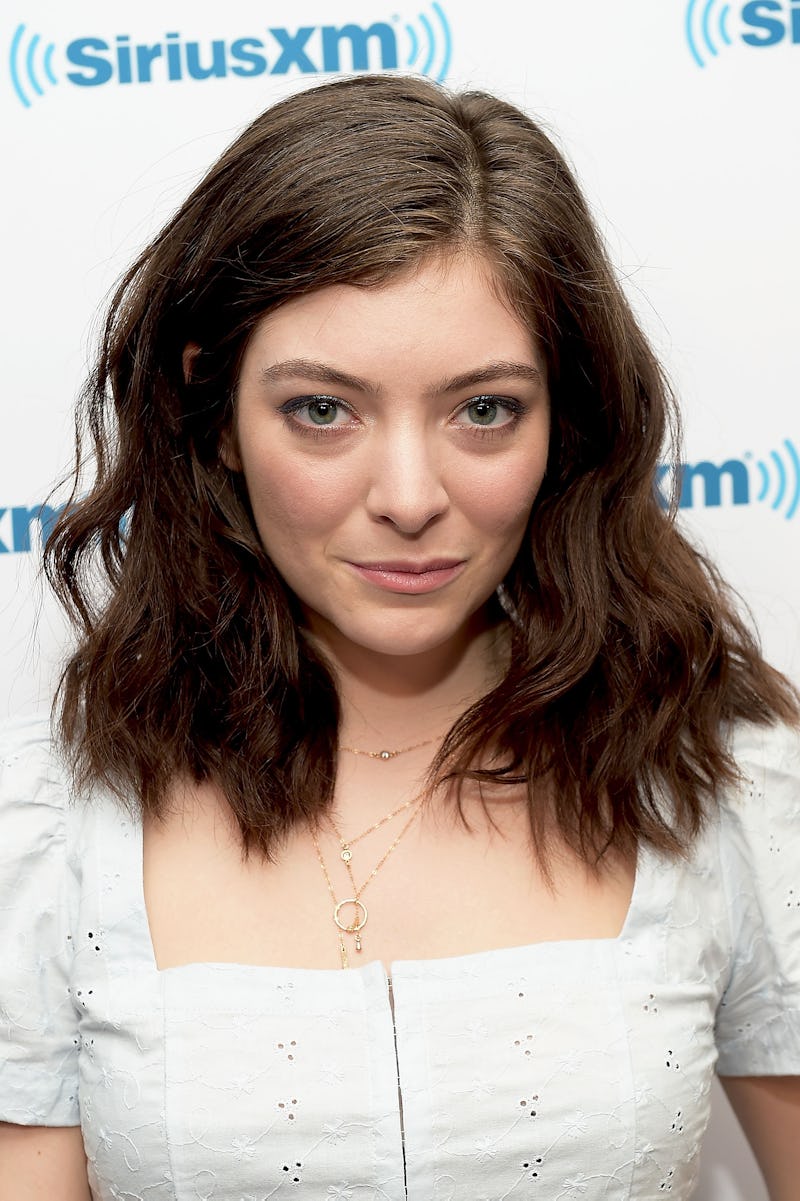 Matt Winkelmeyer/Getty Images Entertainment/Getty Images
After waiting for what felt like forever, Lorde's Melodrama is finally here, and if you ask me, it was definitely worth the wait. Relationships have inspired some of the best music ever, and although I don't want to cheer for Lorde's breakup from James Lowe in 2015, I have to admit that the end of her three-year love story did give us this incredible album. In fact, there are so many Melodrama lyrics seemingly about her ex-boyfriend, James Lowe, that give an insight into what their relationship must have been like.
Of course, it's impossible to tell what lyrics Lowe inspired exactly without going through the album line by line with the singer herself — how amazing would that be? — but it's easy to make an educated guess after listening to the songs themselves. After all, earlier this year, Lorde told Beats 1 that the first single from Melodrama, "Green Light," is about her "first major heartbreak." And being that she also mentioned to The New York Times that the album itself was inspired by her breakup and what it's like to be alone after a relationship is over, it seems like there's a lot of her former love in these songs.
Here are some of the most heartbreaking lyrics that can easily be interpreted as inspired by Lorde's past relationship — and the way it ended. I hate that she had to go through something so obviously terrible, but it did help her create a killer second album.
1. "Green Light"
She thinks you love the beach/you're such a damn liar
While talking to Zane Lowe on Beats 1 about "Green Light" when it first dropped, Lorde alluded to these lyrics reflecting her heartbreak. According to her, it seems her ex actually didn't like the beach, but a new lady in his life thought he did. It's a great description of that painful kind of way you still know your ex so well even after you split.
2. "The Louvre"
I'm just a sucker who let you fill her mind.
Doesn't everybody hate that instant regret after a breakup when you feel like you've been stupid for letting someone into your life who didn't want to stay? The worst.
3. "Liability"
The truth is I am a toy/That people enjoy/'Til all of the tricks don't work anymore/And then they are bored of me
This song is one of the hardest to hear on the album — maybe because it can be so relatable — but it sounds like this one is about a partner feeling board in a relationship. Not exactly what you want to hear from someone you're in love with.
4. "Hard Feelings"
Cause I remember the rush, when forever was us/Before all of the winds of regret and mistrust/Now we sit in your car and our love is a ghost
No matter how needed a breakup was, even the good memories can be difficult to think about at first.
5. "Hard Feelings" — Again
Three years, loved you every single day, made me weak, it was real for me, yup, real for me/Now I'll fake it every single day 'til I don't need fantasy, 'til I feel you leave/But I still remember everything, how we'd drift buying groceries, how you'd dance for me/I'll start letting go of little things 'til I'm so far away from you, far away from you
"Hard Feelings" might be the most revealing song about Lorde's past relationship on the album, and it gives us a glimpse into how she was coping at the time she wrote these songs. I just want to give her a hug and remind her it gets better!
"Writer In The Dark"
Break the news — you're walking out/To be a good man for someone else/Sorry I was never good like you/Stood on my chest and kept me down/Hated hearing my name on the lips of a crowd/Did my best to exist just for you
These lyrics might hint that she and her ex drifted as her career took off. Maybe the spotlight got to be too much for them?
"Supercut"
In my head, I play a supercut of us/All the magic we gave off/All the love we had and lost
There are those good memories again, coming back to bite her. I only wish Lorde had gone into the specifics here — I'm so curious!
Regardless of whether or not these lyrics are actually coming from her real life experiences, it's pretty clear that Melodrama is an amazing album, especially if you're going through heartache yourself. If you need me, I'll be listening to it on repeat from now on.