7 Myths About The HPV Vaccine Doctors Want To Bust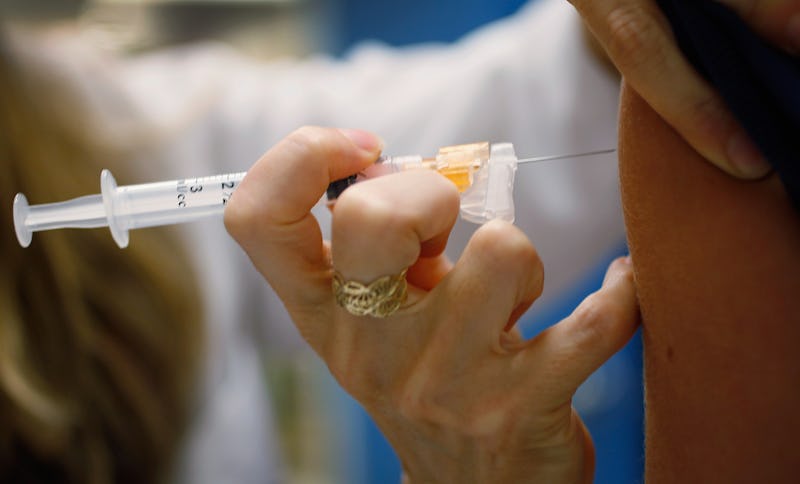 Joe Raedle/Getty Images News/Getty Images
The human papilloma virus (HPV) vaccine has been distributed to millions of people in the United States since it became available in 2006, but despite its enormous efficacy rate, myths about the HPV vaccine still make it difficult for people to seek it out. Getting the HPV vaccine can lower your risk of contracting strains of the virus that are associated with certain cancers, which is why it's important to combat misinformation about this medicine.
"Over 80% of sexually active adults get HPV once in their lifetime at least," Dr. Electra Paskett, PhD, a cancer control researcher at The Ohio State University Comprehensive Cancer Center, tells Bustle. "We can tell who will develop cancer from that infection." However, like other vaccines, the HPV shot — which is recommended for people in their early teens through twenties — has been dogged by several myths and misconceptions. Experts tell Bustle it's high time the misinformation about the HPV vaccine was dismissed.
Widespread uptake of the HPV vaccine is highly necessary. "We need to get the vaccination rate to 80% in the population to reach the herd immunity needed to eliminate cervical cancer," says Paskett. HPV is spread by sexual activity, so if you've had sex in your life, there's a reasonable chance you've come into contact with HPV. If you've shied away from the HPV shot because of concerns about effectiveness, doctors say it's time to reassess what's real and what's not.