7 Pad, Tampon, & Menstrual Cup Mistakes OBGYNs Want You To Know About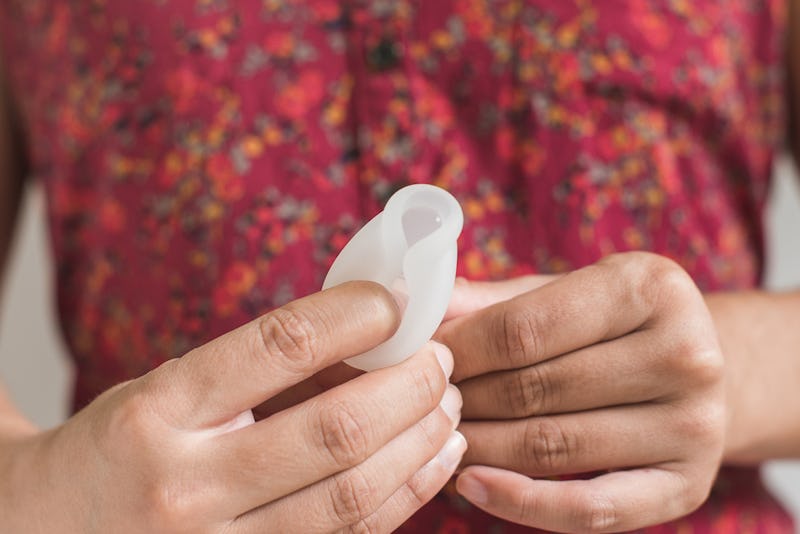 Diana Zuleta/Shutterstock
Considering that, if you're a person with a menstrual cycle, and you live in an industrialized country, you can expect to get about 480 periods total in your lifetime, you'd think you'd have this process perfected by now. Well, as it turns out, you might be making some mistakes when it comes to using your pads, tampons, or menstrual cup, even if you've been using them for freaking ever. There are some things that your gynecologist really wishes you'd just stop doing already.
"The average woman uses about 10,000 pads or tampons in her lifetime," Dr. Julie Lamb, MD, reproductive endocrinologist and infertility specialist at Pacific NW Fertility in Seattle, tells Bustle via email. "So, there is actually some research about menstrual management methods," she says.
Because there has, until very, very recently, been such a strong stigma around our menstrual cycles, it's possible that many of us mess up our period management routine without even knowing it. Though toxic shock syndrome is thankfully a lot rarer than your seventh grade health class probably led you to believe, subtle things like leaving a tampon in for too long, or not avoiding certain ingredients, can make a difference in your health. Making sure that you're practicing good menstrual health hygiene is important.
Here are seven mistakes you might be making when managing your period, and how to make sure your menstrual self-care is safe and on point.