7 Powerful Times John Lewis Wasn't "All Talk"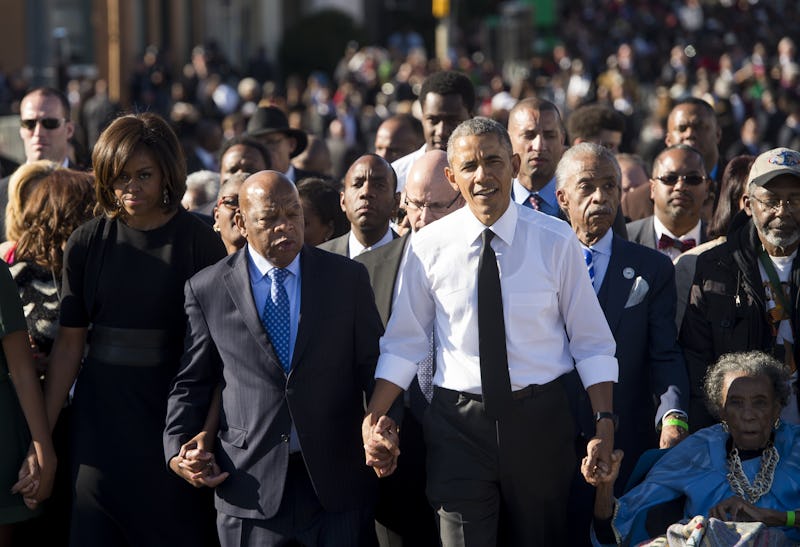 SAUL LOEB/AFP/Getty Images
With less than a week from Inauguration Day, President-elect Donald Trump decided to continue his absurd Twitter wars. Venerated civil rights activist Rep. John Lewis of Georgia is Trump's latest Twitter target. The outspoken Lewis openly criticized Trump in an upcoming interview with NBC's Meet the Press, and the President-elect responded like how he responds to most criticism: blustered, rude and defensive.
According to NBC News, Lewis said he doesn't consider Trump "a legitimate president" because of news that Russian intelligence interfered with the presidential election for over a year. The alleged Russian security breach includes cyberattacks on the Democratic National Committee, which led to the WikiLeaks email dump of Hillary Clinton campaign chairman John Podesta.
"I think the Russians participated in helping this man get elected. And they helped destroy the candidacy of Hillary Clinton," Lewis told NBC's Meet the Press.
Trump, never missing a beat, responded Saturday morning with tweets directly addressing Lewis and his Congressional career. Trump tweeted that Lewis "should spend more time on fixing and helping his district, which is in horrible shape and falling apart...rather than falsely complaining about the election results."
"All talk, talk, talk - no action or results," Trump added about Lewis. And of course, Trump called Lewis and his comments, "Sad!"
This is not a good look for Trump, particularly because Lewis is emblematic of the Civil Rights movement, and especially on the day before Martin Luther King Jr.'s birthday. For nearly six decades, Lewis has embodied the term "activist" and has gotten some great results.
Here are seven times when Lewis wasn't "all talk," as Trump inaccurately claims, and instead fought for real change: