7 Presidential Campaign Logos That Went Down In History, For Better Or Worse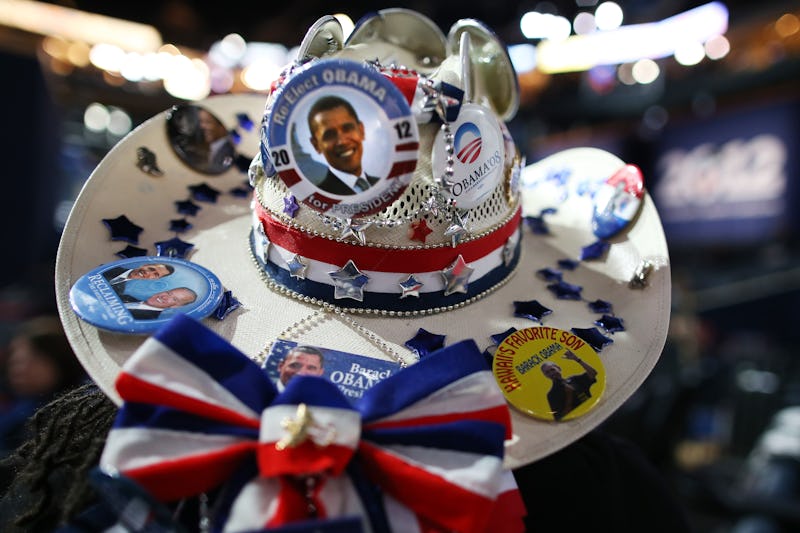 Tom Pennington/Getty Images News/Getty Images
The 2020 presidential campaign is well underway, meaning lots of candidates are already using things like logos and posters to promote themselves. These materials help visually represent the candidate and the tone of their platform, and if the design is done just right, they can make a huge impression on the American public. In fact, some unforgettable presidential campaign logos from over the years show politics and design are more intertwined than you'd think.
"[Campaign design] should be reflective of the cultural moment, distinct from competitors, and emotionally compelling to its core audience," Anjelica Triola, the co-founder of The Creative Caucus, a company that connects designers with progressive political candidates, tells Bustle via email. "A memorable visual identity system ... [should] communicate something special about the candidate it represents."
Triola emphasizes that design can give voters a sense of how a candidate will approach the office for which they are running. Iconic campaign logos and designs often reflect a break with tradition, she adds, citing recent millennial congressional campaigns from Alexandria Ocasio-Cortez and Suraj Patel, who opted for campaign colors outside of the "red, white, and blue [campaign design] establishment."
As Triola outlines, it's clear that design is intrinsically linked to a campaign's identity. To illustrate that connection, here are some memorable campaign logo designs over the years that made lasting impressions, for better or for worse.