Arkansas Isn't The Only State Restricting Abortion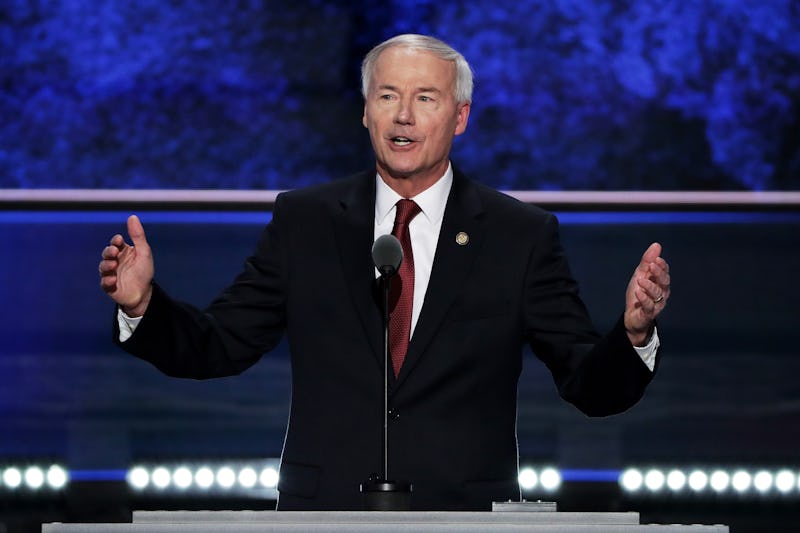 Alex Wong/Getty Images News/Getty Images
Last Thursday, Arkansas' governor signed a law that could allow fathers or even parents to "veto" women's abortions by threatening to sue abortion providers. And Arkansas isn't the only state to pass abortion laws, or attempt to pass laws, similar to it in recent years. There are several other states that have tried to pass stricter ones, in fact.
The Arkansas law, known as the "Unborn Child Protection From Dismemberment Abortion Act," was signed into law by Republican Gov. Asa Hutchinson last week. The act would allow the husband of a woman trying to procure an abortion, if he is the father of the unborn, to sue a doctor for "injunctive relief," thus blocking his wife from having an abortion. (If the person having an abortion is a minor, their legal guardian can sue as well.) The act also bans dilation and evacuation (D&E) procedures, which, according to the American Medical Association, are both the safest and the most used methods of abortion following 14 weeks of pregnancy.
The law has yet to go into effect, but the ACLU of Arkansas will be fighting it in court. "The law puts an undue burden on a woman's constitutional right to obtain a second-trimester abortion, and I think the legislature knows it and doesn't care," said Rita Sklar, an attorney for the Arkansas chapter of the American Civil Liberties Union, told Reuters.
Here are some other states that have similarly attempted to further infringe on reproductive rights through abortion restrictions:
This Texas Regulation
Texas' regulations required abortion providers to bury or cremate fetuses to preserve "human dignity." A U.S. District Judge, Sam Sparks, put an injunction on the law saying the law put "undue burdens on a woman's right to seek a pre-viability abortion," Newsweek reported.
This Blocked Louisiana Measure
Last year, the Supreme Court blocked Louisiana's 2014 measure, which would have closed down three out of the last four abortion clinics in the state, CNN reported. Louisiana's law, like Texas', required the physicians performing abortions to have admitting privileges at a local hospital.
This Blocked Alabama Law
In October, U.S. federal Judge Myron Thompson blocked Alabama's school-proximity law and a similar ban on D&E abortion procedures. The school proximity law would have prevented clinics from being within 2,000 feet of a K-8 public school, Reuters reported.
Mississippi's Blocked D&E Ban
The Supreme Court also struck down Mississippi's ban on D&E abortion procedures in the second trimester, as well as its admitting privilege requirements, the Washington Post reported.
West Virginia's D&E Ban
West Virginia also passed a similar D&E ban, according to the Washington Post. Anyone getting an abortion in the state has to go through state-directed counseling, which is meant to discourage abortion, as well as a 24-hour waiting period, the Guttmacher Institute reported.
This Voided 2015 Law In Kansas
The Kansas Court of Appeals voided its 2015 abortion law, which would have banned D&E. (Do you see a trend here?) The law banned "knowingly dismembering a living unborn child and extracting such unborn child one piece at a time from the uterus," the New York Times reported. Well, that's an unfortunate way to describe what many doctors consider the safest abortion method after 12 weeks of pregnancy.
This Voided Oklahoma Law
In December, Oklahoma's Supreme Court voided a state restriction on abortion that required doctors performing the operation to have admitting privileges at a local hospital, Slate reported.
Arkansas' yet-to-be-implemented abortion restrictions are a horrifying step away from reproductive rights and bodily autonomy. Thankfully judges are shutting down these restrictive laws in many states. Hopefully, Arkansas' law will be the next to be voided.